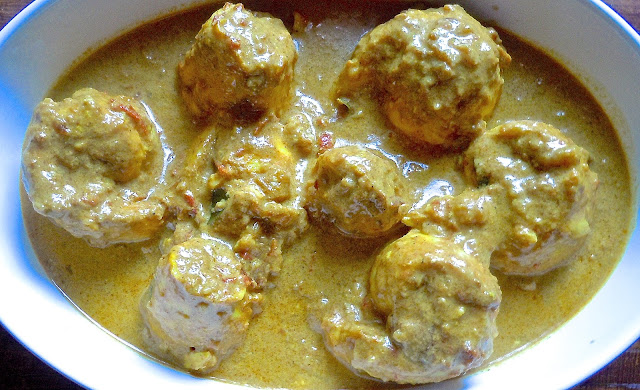 Fish Molee also called Moilee is a popular dish from Kerala in the Southern part of India. It is a delicate stew-like curry, using local Kerala spices such as cardamom, cloves and peppercorns. The key ingredient is coconut milk which is great for flavoring mild fish such as catfish. Fish Molee is quite easy to make, half the cooking can be done in the oven.
ingredients:
1 1/2 lbs. fish fillets, Catfish or Tilapia
1 tbsp. lemon juice
1/2 tsp. turmeric, divided
1 tsp. salt, divided
3-4 cloves garlic
3/4 inch cube ginger
2 tbsps. vegetable oil
1 medium onion, thinly sliced (see note)
1 medium tomato, pureed
1/2 tsp. cayenne
1/2 tsp. peppercorns
1/4 tsp. clove powder
1/4 tsp. cardamom powder
8-10 curry leaves
1 cup coconut milk
few slices of green chilies (optional)
1/4 cup chopped fresh coriander (optional)
lemon/lime wedges for garnish (optional)
note:
You can replace raw onions with 1/3 cup fried onions from the Indian market.
preparation:
Preheat oven to 400 degrees F.
Cut each fish fillet into quarters, once crosswise and once lengthwise to end up with 4 long pieces.
Mix together lemon juice, half the turmeric and half the salt.
Place fish in a bowl, rub turmeric-salt mixture all over the fish fillets. Set aside.
Grind ginger and garlic into a smooth paste, adding a little water if needed.
In a medium skillet, heat oil, add onions and saute until golden brown. Add ginger-garlic paste, stir. Add rest of the salt and turmeric, tomatoes, curry leaves, cayenne, clove, cardamom, peppercorns and coconut milk.
Bring to a boil and simmer for about 5 minutes, reducing to a thick gravy (it will get thinner when added to the fish as the fish releases liquids during baking).
In the meantime, loosely roll the fish fillets, starting at the thin end.
Place fish rolls in an oven-proof dish, thick side down. Pour prepared gravy over fish, making sure it gets between layers of rolled fish.
Add chopped chilies (optional). Bake uncovered for 25-30 minutes until bubbly.
Garnish with chopped fresh coriander, serve warm with Basmati rice.
Copyright © Rashmi Rustagi 2012. All Rights Reserved.
---