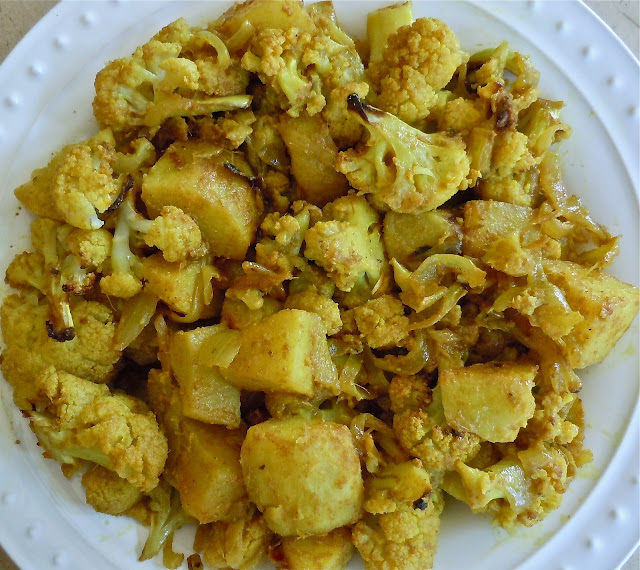 Aloo Gobhi or Potato and Cauliflower is a popular vegetable dish in India and abroad. The few spices boost the flavor of the two vegetables without overpowering them. Instead of cooking Aloo Gobhi on the stove, this recipe saves time by roasting them in the oven; you don't have to stir it often so the potato and cauliflower do not fall apart, there is very little cleanup and best of all, you use less oil.
ingredients:
1 lb. cauliflower, cut into small flowerets (approximately 4 cups)
2 medium potatoes, cut into 3/4 inch cubes (approximately 2 cups)
1 medium onion, thinly sliced (approximately 2 cups)
2-3 tbsps. vegetable oil
3-4 cloves garlic, minced
3/4 inch cube of ginger, minced
2 tsps. cumin powder
1 tsp. turmeric powder
1/2 tsp. cayenne pepper
1 tsp. salt
1/2 cup chopped coriander leaves (optional)
Cooking spray or oil for the pan
note:
Instead of mincing the ginger and garlic, you can save time by grinding them with an immersion blender, using the oil to facilitate the blending.
preparation:
Heat oven to 450 degrees F.
Line an ovenproof pan with foil, spray with cooking spray or brush with a little oil.
Mix all the ingredients in a bowl, spread in the pan and bake for 25-30 minutes.
Halfway through the baking, stir once, turning the pieces over.
Garnish with coriander leaves. Serve hot with daal and rice!
Copyright © Rashmi Rustagi 2012. All Rights Reserved.
---