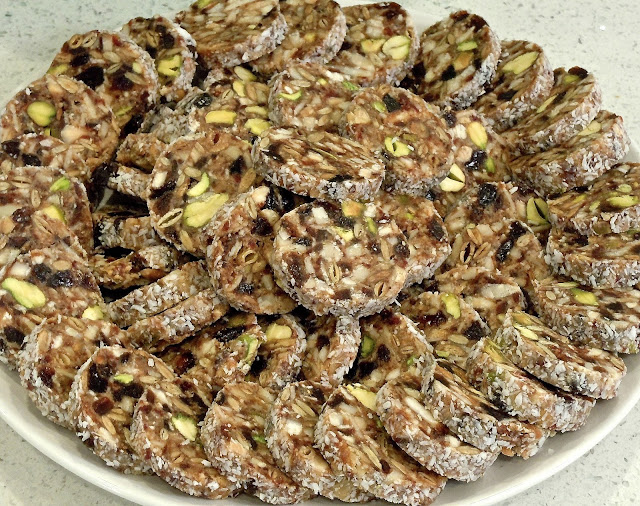 Dates and nuts always make a great combination; these Date Nut Rolls make a healthy snack, a quick dessert and a great hiking companion. I have been making some version of this roll for many years and have found the perfect combination of crispy pumpkin seeds with crunchy almonds and soft pistachios. Slip a few pieces into your child's/spouse's lunch box for a tasty treat!
ingredients:
8 oz. pitted dates
3 tbsps. butter
1/2 can (1/2 cup) condensed milk
1/2 tsp. cardamom powder
1 cup powdered milk
1/2 cup pistachios
1/2 cup sliced almonds, roasted
1/2 cup slivered almonds, roasted
1/2 cup shelled pumpkin seeds (pepitas), roasted
1/2 cup raisins
4-5 tbsps. coconut powder
preparation: 
Finely chop dates in a food processor, set aside.
Melt butter in a heavy bottomed pan on medium-low heat.
Add dates and stir until the dates start to dissolve and clump.
Add condensed milk, cardamom and powdered milk, mix well.
Add pistachios, almonds, pumpkin seeds and raisins, mixing until heated through.
Take the pan off the stove and let mixture cool enough to handle, about 5 minutes.
Divide mix into 4 parts.
Roll each part into a log about 5 inches long, dusting with coconut powder to keep it from sticking, squeezing to get rid of any air bubbles.
Cool, cover with plastic wrap and refrigerate for 30 minutes or more.
Using a sharp knife, cut into 1/4 inch thick slices, rotating the log to maintain the rounded shape. If the logs are too hard to cut, let them come to room temperature, if too soft, round them by hand after cutting.
Enjoy!
Copyright © Rashmi Rustagi 2012. All Rights Reserved.
---