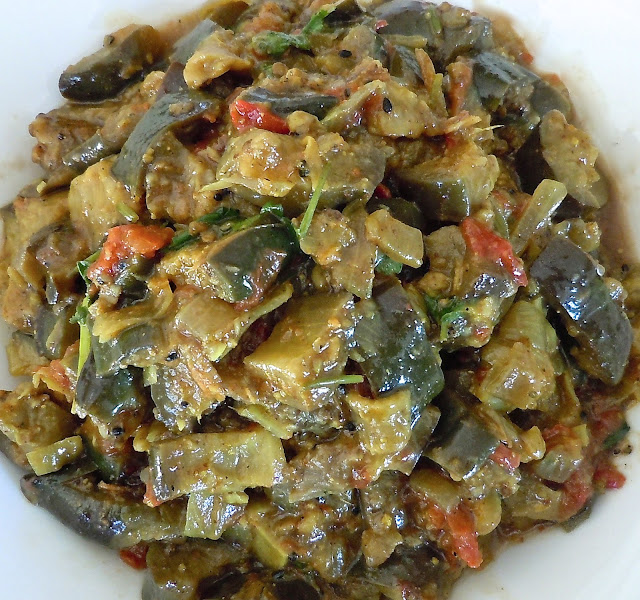 Eggplants are quite versatile and are served many different ways in all different cuisines. In India, eggplant is served curried, chopped, stuffed, battered, mashed and deep fried as a pakora. Eggplant can soak up a lot of oil so it helps to cook it in a non-stick skillet. This recipe is quite simple and the Achaar Masala with its mustard and fennel seeds gives this dish a unique flavor. Japanese eggplants also work well in this recipe.
ingredients:
1 medium eggplant (about one pound)
2 tbsps. oil
1 medium onion chopped (about 1 1/4 cups)
3-4 cloves garlic, chopped
1 tsp. finely chopped ginger
1 tsp. salt
1/4 tsp. red pepper flakes
1 tbsp. Achaar Masala
2 medium tomatoes, chopped
2 tbsps. fresh coriander leaves (optional)
1/2-1 tsp. fresh lemon juice (optional)
note:
You can buy Achaar Masala on the shop page.
preparation:
Rinse and chop eggplant into 1/2 inch cubes.
Heat oil in a frying pan, preferably non-stick.
Add onions and fry until golden brown, 4-5 minutes.
Add garlic, ginger, salt and pepper flakes, stir.
Add eggplant and Achaar Masala, stirring until eggplant is evenly coated.
Cover and cook for 4-5 minutes on medium heat, stirring occasionally.
Uncover, add tomatoes, stir and continue to cook until eggplant is completely cooked, another 4-5 minutes.
Take off the stove, cover and set aside for 5-10 minutes.
Taste and adjust seasonings, adding lemon juice and coriander leaves.
Serve with fresh Naan or Daal and rice!
Copyright © Rashmi Rustagi 2013. All Rights Reserved.
---