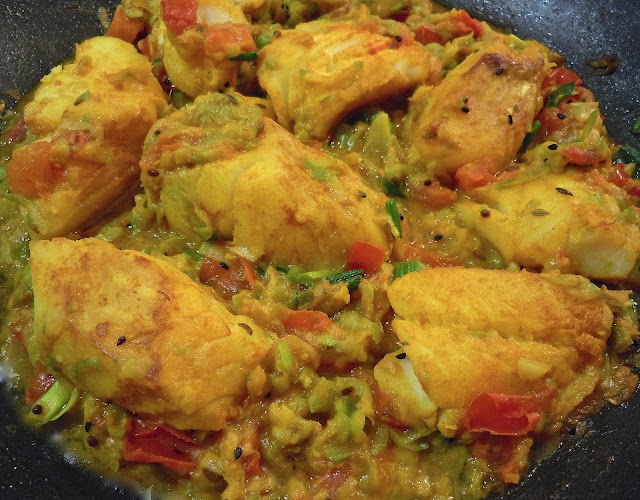 This tangy fish recipe is my tweaked version of a dish my brother-in-law makes occasionally. Grated squash keeps the fish moist without much gravy and makes the dish taste creamy without the cream. Lauki or Opo squash tastes great in this dish but zucchini squash works just as well. The five spices in Panch Phoran add intrigue and complexity to the fish and the lemon juice gives it the tang. I like to serve Lauki Machhli with jasmine rice, its creamy texture and flavor compliments the fish.
ingredients:
1 lb. white fish filet such as Cod or Catfish
3/4 tsp. turmeric
3/4 tsp. salt
2-3 tsps. lemon/lime juice
3 tbsps. olive oil
1 tsp. Panch Phoran
2 tsps. minced ginger
1 tsp. minced green chilies
1 1/2 cups grated zucchini or Opo squash
1 cup chopped tomatoes
2-3 green onions, chopped
1/4 cup chopped coriander leaves (optional)
note:
You can buy Panch Phoran on my shop page.
preparation:
Cut fish into 2 inch squares or rectangles, sprinkle with turmeric, 1/2 teaspoon salt and 1 teaspoon lemon juice.
Marinate for 15-20 minutes.
Heat 2 tablespoons oil in a non-stick frying pan.
Add fish pieces and fry on all sides to a golden brown, about 4 minutes. Transfer to a plate.
Heat remaining oil in the skillet, add Panch Phoran.
When the seeds start to crackle, add ginger, chilies, stir.
Add grated squash, 1/4 teaspoon salt, stir and cook for 2-3 minutes.
Add tomatoes, stir.
Add fish and green onions, stirring gently to mix with squash and tomatoes.
Cover and bring to a simmer.
Remove from the stove and set aside as the fish continues to cook for 8-10 minutes.
Sprinkle with remaining lemon/lime juice and coriander leaves; taste and adjust the seasonings.
Serve with jasmine rice!
Copyright © Rashmi Rustagi 2013. All Rights Reserved.
---