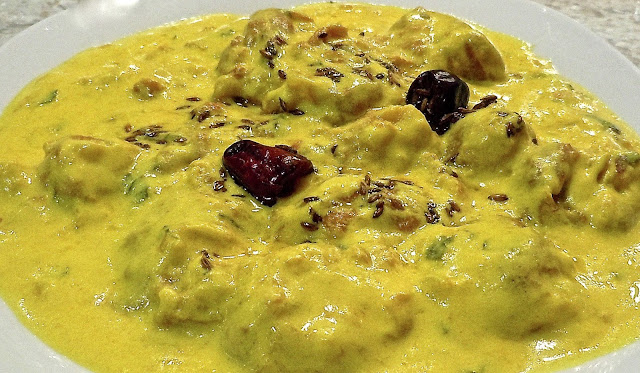 Kadhi is a popular dish all across India. The ingredients in the sauce and pakoris (dumplings) can vary but basically Kadhi refers to a vegetarian sauce that can be eaten by itself as in Gujarati Kadhi with yogurt or a sauce with dumplings like Kadhi from Uttar Pradesh or Punjabi Kadhi. I grew up eating Kadhi that had plain besan (chana daal flour) pakoris simmered in a yogurt sauce and my mom taught me the trick of making very light and hollow pakoris for this Kadhi. Over time, I discovered Punjabi Kadhi which has vegetables in the pakoris. You can add almost any vegetable to the pakoris including spinach. The cauliflower, potato and onion combination became our family favorite.
I try to buy a sour brand of yogurt for my Kadhi so it has a nice tangy flavor. You can try it with your favorite plain yogurt. Kadhi is best served with rice but can be eaten plain, it is a meal by itself!
ingredients:
for the kadhi sauce:
1/3 cup Besan (Chana daal flour)
3 cups whole milk yogurt (see note)
1 1/2 tsps. turmeric
1 tsp. sugar
1 tsp. salt
1/2 tsp. asafoetida (optional) (see note)
2 Tbsps. fresh or dried fenugreek leaves
3 cups water
2 tsps. oil
1/2 tsp. fenugreek seeds
1/4 tsp. red pepper flakes
10-15 curry leaves
for the pakoris:
3/4 cup Besan (Chana daal flour)
1/3 cup whole milk yogurt
1 tbsp. Rashmi's Blend
1 tsp. salt
1/4 tsp. asafoetida (optional)
1/2 cup chopped onion
1/2 cup diced potatoes
1/2 cup finely chopped cauliflower
a pinch of baking soda
2-3 cups oil for frying
for tadka: (optional)
2 tsps. ghee or oil
1 tsp. cumin seeds
3-4 dried chili peppers
note:
Kadhi may taste more or less sour each time, depending on the tartness of the yogurt. You can substitute one cup of yogurt with one cup of buttermilk if the yogurt is too sour.
Kadhi will thicken as it cools down, add some hot water to thin it.
You can buy Rashmi's Blend on my shop page.
Asafoetida is a plant derived, fragrant spice. It is used instead of garlic in some recipes and smells better when cooked.

preparation:
To make Kadhi sauce:
Place Besan in a 2-3 quart mixing bowl.
Slowly add yogurt, mixing with a whisk to prevent lumps.
Blend in turmeric, sugar, salt, asafoetida and fenugreek leaves.
Add water, set aside.
Heat a 3 quart or larger saucepan, add oil and fenugreek seeds.
As soon as the seeds start to sizzle, add pepper flakes, curry leaves and the yogurt mix.
Bring to a boil on medium heat, stirring occasionally.
Turn heat down to simmer, cover the pot.
To make Pakoris:
Place Besan and yogurt in a small mixing bowl, blend into a smooth paste, adding a few teaspoons of water if necessary.
Add the rest of the ingredients, mixing well.
Heat oil in a frying pan to about 300 degrees F; the oil should be 3/4 inch deep.
Drop walnut size batter into hot oil.
Fry Pakoris until golden on both sides, about five minutes.
Drain on paper towels.
When all the Pakoris are fried, gently drop them into Kadhi sauce.
Cover and simmer for 10 minutes.
Turn the heat off and let Pakoris soak for another 15-20 minutes.
Taste and adjust the seasonings, if Kadhi is too tart, add some sugar.
Spoon into a serving bowl, (garnish with tadka).
Serve with rice and a green vegetable.
For Tadka: (optional)
Heat ghee in a small frying pan. Add cumin and peppers. Stir until lightly browned and fragrant. Pour on the top of Kadhi just before serving.
Copyright © Rashmi Rustagi 2012. All Rights Reserved.


---