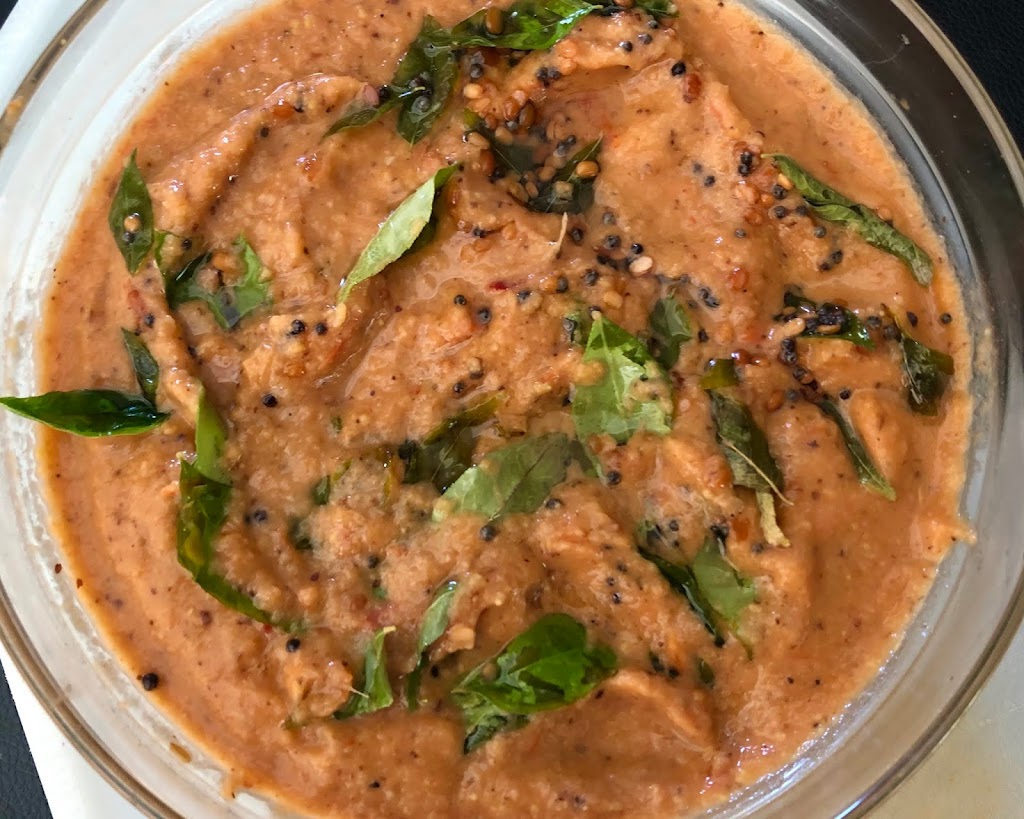 Every Indian meal is usually served with at least one of the several varieties of chutneys to complement the meal and boost the missing flavor from the main meal. For example, a sweet and sour chutney to enhance a spicy chicken curry or a mint chutney to cut down the gamey flavor of a lamb biryani. This tomato chutney is a classic accompaniment to a Dosa meal, providing the tart, creamy balance to the crispy Dosa with a potato filling.
Dosa is usually served with a tomato chutney and a coconut chutney. I find it easier to add some fresh/frozen coconut to this chutney for a two-in-one treat. Some people add roasted peanuts instead. Try adding either of those next time for a change.
ingredients:
1 Tbsp. vegetable oil
1 tsp. cumin seeds
1 tsp. black mustard seeds
1 Tbsp. Urad daal without skin
1 Tbsp. Chana daal
2-3 dried red chillies
1 cup chopped onion
2-3 cloves garlic
1 Tbsp. chopped ginger
2-3 cups chopped tomatoes
1/4 tsp. asafetida powder (optional)
2 tsps. salt
1-2 Tbsps. Tamarind concentrate
1/4 cup grated coconut, fresh or frozen fresh (optional)
1/2 cup roasted peanuts (optional)
tadka (tempering):
2 tsps. vegetable oil
1 tsp. black mustard seeds
1 tsp. Urad daal
1/4 cup curry leaves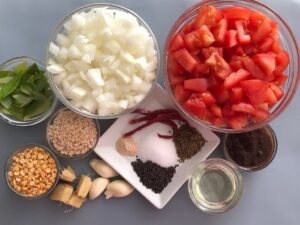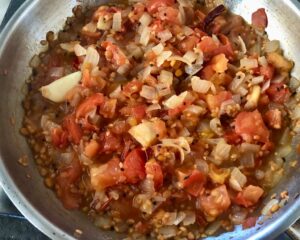 preparation:
Heat oil in a skillet over medium heat.
Add cumin seeds, mustard seeds, Urad daal, Chana daal and stir until Daal start to turn golden.
Add chopped onion, ginger, garlic and cook until onions are transparent, about 3-4 minutes.
Add tomatoes, asafetida, and salt and cook until tomatoes are soft, another 4-5 minutes.
Cool the mixture, add tamarind concentrate and grind in a blender until chutney is smooth.
Taste and adjust the seasonings, adding more tamarind if the tomatoes were not tart enough.
For the tadka:
Heat oil in a skillet, add mustard seeds and Urad daal.
When the daal turns golden, add curry leaves, stir for a few seconds and put over the chutney, gently mixing it in.
This chutney freezes well so freeze some to use later.
Copyright © Rashmi Rustagi 2021. All Rights Reserved.
---