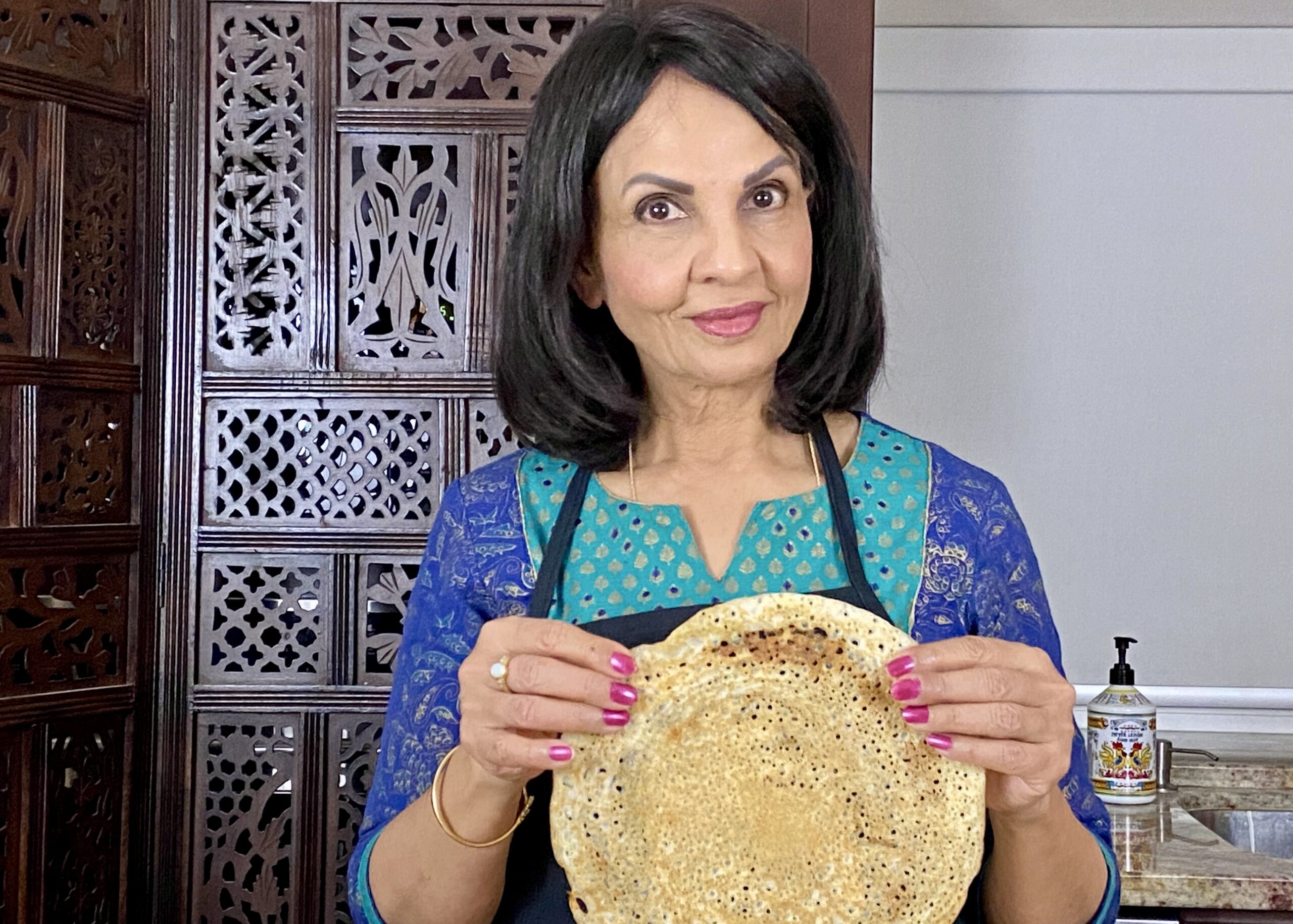 Dosa is a crispy crepe made from fermented rice and urad daal (a type of split legume) which has been soaked and ground. It is a popular dish in Southern India and is served with a potato filling, sambar (a vegetable and daal soup), and an assortment of chutneys. You can find dosa and idli batter in most South Indian households every day of the week. It's gluten free, has a decent amount of protein, and can be eaten at any time of the day.
I grew up in North India and the only time we ate dosa was in a restaurant. I can still remember the yummy fermented fragrance wafting from the food truck in my college quad as we lined up to buy a made-to-order dosa lunch. Some places make huge dosas that are twice the size of the plate they are served in! The first time I attempted to make a dosa was after arriving in America. After experimenting for a while, I was able to create the perfect batter and after several tries, I was able to get a decent size dosa off the skillet!
Some planning is required since the batter needs about 2 days total to soak and ferment. My recipe makes a big batch which I use for making idli and uttapam as well. The leftover batter freezes well, and it's ready to cook after thawing.
ingredients:
2 cups medium or long grain rice
1 cup skinless urad daal
1/4 cup chana daal
2 teaspoons fenugreek seeds
2 teaspoons salt
1 teaspoon sugar
vegetable oil for cooking

preparation:
Combine the rice, both the urad and chana daals, and fenugreek seeds in a large bowl. Wash and drain. Soak for a minimum or 3 hours, or overnight.
Once the rice mixture is properly soaked, drain and place in a blender. Blend on low, adding enough water to help the blender. I use about 1 1/2 cups to make the mixture look like a thick pancake batter. Do not overblend – you want the mixture to feel like like wet cornmeal. It will give the dosa a crispier texture.
Pour the batter into a large bowl and set aside in a warm place. The ideal temperature for fermentation is between 75 and 100 degrees Fahrenheit. Make sure there is room in the bowl for the batter to rise. Check the batter after 24 hours. It should have a sourdough like smell and a fluffy texture (check out my video above). If not, let it continue to ferment, checking every 6 hours. Once the batter is appropriately fermented, add the salt and sugar, making sure to mix gently.
Heat a skillet over medium heat and brush lightly with oil. Pour about a 1/3 cup of batter in the middle and spread it with a spoon into a 6-8 inch circle. If the batter is too thick, it will be hard to spread. You can thin it by adding a little water. Before flipping, drizzle with ~1/4 teaspoon of oil. When the dosa turns golden and the edges start to loosen, gently flip it over and cook for a few seconds until crisp. Serve with Aloo Matar and Tomato Chutney. Enjoy!
Copyright © Rashmi Rustagi 2022. All Rights Reserved.
---