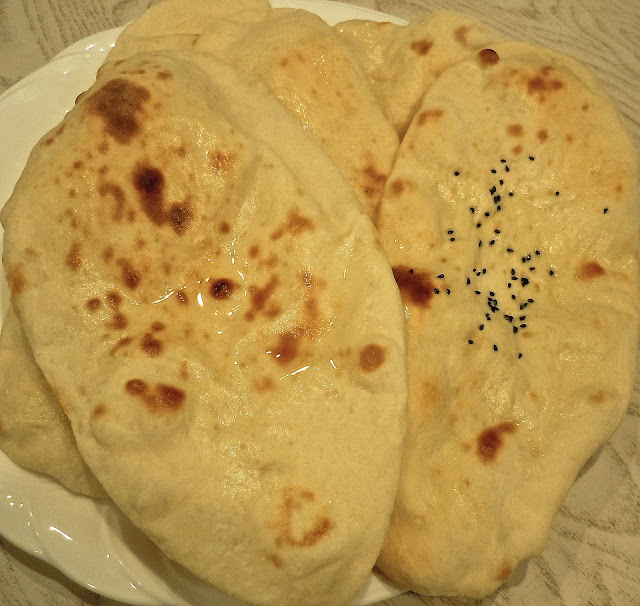 Naan was originally a generic word for any Indian bread, but now it's the most popular leavened bread. In India, naan isn't made at home because people do not have a tandoor or clay oven, which can heat up to 800 degrees Fahrenheit! Impossible for a standard home oven, but I figured out a great technique for this – preheat your oven to its highest setting and cook the naan under the broiler. The result is a soft naan that doesn't dry out. Once you realize how simple this is, you will fall in love with making your own naan!

ingredients:
3/4 cup warm milk
1 1/2 teaspoons sugar
1 teaspoon yeast
3/4 teaspoon salt
2 tablespoons yogurt, beaten
1 tablespoon ghee or oil
2 1/8 cups + 1/4 cup all purpose flour, divided
1/2 teaspoon onion seeds (optional)

for garlic naan, combine:
3 teaspoons minced garlic
1 1/2 teaspoons ghee, butter, or oil
pinch of salt

note:
*You can make the dough ahead of time. After the second rise, you can refrigerate the dough for 2-3 days, or freeze for up to 6 months.

preparation:
Adjust the top rack of your oven to its highest position, or about 6 inches away from the broiler. Preheat the oven to 150 degrees Fahrenheit and then turn it off.
In a bowl, combine the warm milk, sugar, and yeast. Stir and set aside for 10-15 minutes. When the yeast becomes foamy, stir in the salt, yogurt, and ghee or oil. With floured hands, mix in 2 1/8 cups flour. Knead lightly for a minute or two into a soft dough. Cover the dough and place it in the warm oven to rise for 20 minutes.
Remove the dough from the oven and let it rise on the counter for another 15 minutes (*after it rises, you can refrigerate or freeze the dough.) While the dough rises, place a half-sheet tray in the oven and preheat to 500 degrees Fahrenheit.
Punch down the dough and divide it into 6 equal pieces. Dust a surface with flour and roll each piece into an oval. Add a generous pinch of onion seeds if using, or a 1/2 teaspoon of the garlic ghee mixture. (If you use the garlic mixture, make sure to give your naan an extra roll to press the garlic pieces into the dough. This will prevent the garlic from falling off and burning.)
Turn on the broiler and let it fully heat up for a few minutes. Place 3 naans on your preheated tray, leaving an inch or two between each one, topping side facing up. Broil for about 1 1/2 minutes. The naan should be slightly puffed and starting to turn golden brown. Make sure you're watching, because they cook very quickly! Flip the naan over and broil for another 30-45 seconds, removing from the oven as soon as it starts to brown.
Brush lightly with ghee or melted butter and serve immediately with Butter Chicken, Matar Paneer, or really anything!
Copyright © Rashmi Rustagi 2012. All Rights Reserved.


---