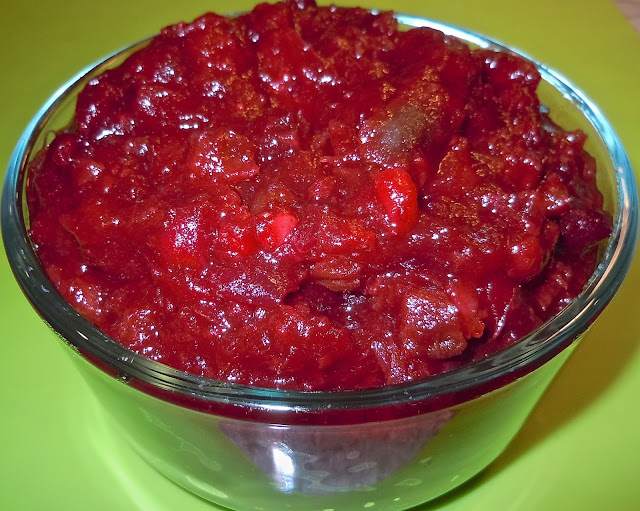 Cranberry Chutney is a favorite at our Thanksgiving table as well as with Indian meals. I try to add as little sugar as possible by replacing it with dried fruits. Dried apricots compliment the cranberries and blend well in this chutney, you can use raisins or dates too. Try Spicy Cranberry Chutney with Brie and toast! Yumm!!
ingredients:
1/2 cup chopped dried apricots
1/4 cup chopped candied ginger
1/2 cup sugar
1 cup water
12 oz. bag fresh cranberries, rinsed
1 tsp. cinnamon
1/2 tsp. cayenne pepper
1/2 tsp. orange or lemon zest
1/4 tsp. ground cloves
1/4 tsp. salt
1 tbsp. rum or bourbon (optional)
preparation:
Place apricots, ginger, sugar and water in a medium saucepan. 

Bring to a boil and simmer for 2-3 minutes. 

Add cranberries and the rest of the ingredients, cooking on medium heat as the cranberries pop open. 

Cook for about 5 minutes, stirring and mashing the berries with the spatula. 

Cranberry Chutney will thicken as it cools. 

Serve warm or cold.
Copyright © Rashmi Rustagi 2012. All Rights Reserved.





---