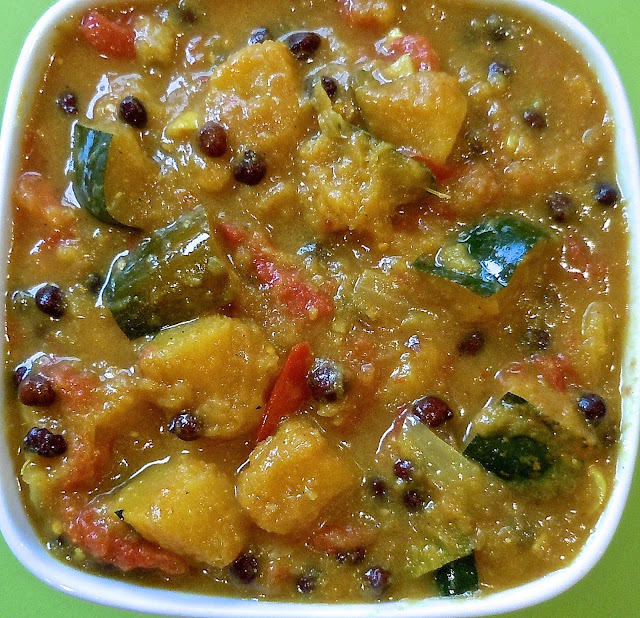 Acorn squash has a sweet flavor and softer texture than most pumpkins. I grew up eating green pumpkins that were not quite ripe in a similar dish as this Acorn Squash Curry with Chana beans. You can peel Acorn Squash before cooking but the skin is quite tender especially after cooking so it does not have to be peeled. Tomatoes balance the sweetness and add color to the gravy while Chana beans add protein and texture. A great vegetarian stew on a winter night!
ingredients:
2 tbsps. oil
1 1/2 cups chopped onions
4-5 cloves garlic, chopped
3/4 square inch ginger, minced
2 tsps. Curry Powder
2 tsps. Rashmi's Blend
1 bay leaf
1/3 cup whole Chana beans, cooked (about 1 cup) (see notes)
1 1/2 lbs. Acorn squash, peeled or unpeeled, cut into 1-inch cubes
1 1/2 tsps. salt
1 tsp. sugar
1 1/2 cups chopped tomatoes
1/2 cup chopped coriander leaves (optional)
notes:
Cook Chana beans on the stovetop, in a pressure cooker, or in a slow cooker. Soaked beans will cook in 45 minutes on the stovetop, 10 minutes in the pressure cooker. Dry beans can be cooked in 4 hours on high setting in a slow cooker. I usually cook more than the recipe and freeze the rest for use later. You can substitute canned beans for Chana.
You can buy Curry Powder and Rashmi's Blend on the shop page.
preparation:
Heat oil in a medium saucepan, add onions, and fry until golden.
Add garlic, ginger, Curry Powder, Rashmi's Blend, and bay leaf. Stir until spices start to brown.
Add Chana, squash, salt, sugar, and 2 cups of water.
Bring to a boil, turn the heat down, cover and simmer for about 15 minutes, until the squash is tender.
Add tomatoes, mix, cover and cook for a minute, turn the stove off.
Taste and adjust the seasonings.
Sprinkle with coriander leaves, serve.
Copyright © Rashmi Rustagi 2012. All Rights Reserved.
---