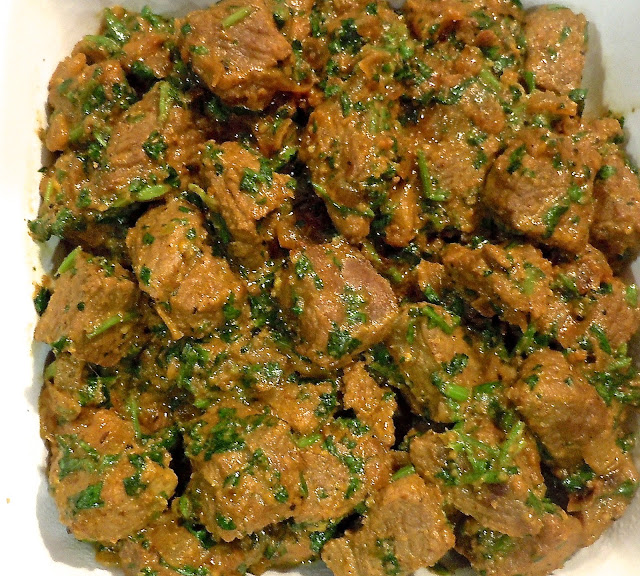 I love the sweet-tart-pungent flavor of this lamb dish. Achaari Gosht gets its unique taste and color from mustard and fennel in the pickling spice blend. The combined acidity of vinegar and yogurt adds the perfect amount of tang. This dish is quite easy to make and works really well in a slow cooker.
ingredients:
1 lb. boneless leg of lamb, cut into 3/4 inch cubes
2-3 cloves garlic, minced, divided
3/4 inch cube ginger, minced, divided
2 tbsps. cider vinegar
1/3 cup yogurt
3/4 tsp. salt
1/2 tsp. sugar
1 tsp. or less minced green chilies
2 tbsps. olive oil or mustard oil
1 medium onion chopped (1 1/2 cups)
1 tbsp. Achaar Masala
1/2 bunch fresh coriander, minced (about 1 cup)
note:
You can buy Achaar Masala on the shop page of the blog.
preparation:
Mix lamb with half garlic, half ginger, vinegar, yogurt, salt and sugar and marinate in the refrigerator for 1-2 hours or overnight.
Bring lamb to room temperature, place in a saucepan and bring to a boil on medium heat.
Cover and simmer until tender, about 45-60 minutes, adding a few spoons of water if lamb begins to stick to the pan.
In the meantime, heat oil in a frying pan, add onions and saute until golden brown in color.
Add Achaar Masala, stir for a few seconds.
Add remaining ginger and garlic, stir for a few seconds until garlic starts to turn golden.
Add onion-garlic mix and minced chilies to cooked lamb, stir and simmer for 10-12 minutes.
Taste and adjust seasonings, mix in coriander leaves.
Serve with basmati rice and Aloo Raita!
Copyright © Rashmi Rustagi 2012. All Rights Reserved.
Cuisinart Smart Stick Stainless Steel Hand Blender & Chopper (Google Affiliate Ad)


---