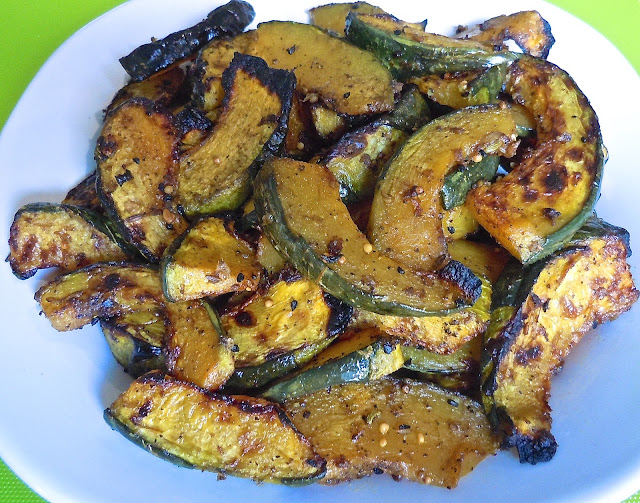 The first time I tasted Kabocha squash was in a tempura dish at a Japanese restaurant. I fell in love with its texture and flavor and have been cooking it ever since. I make pakoras out of it, dipping in a besan batter and deep frying or serve it as a side dish by simply roasting in the oven. A touch of seasoning is all that is needed, the squash has so much flavor. When buying Kabocha, look for smooth, green, unblemished skin. Kabocha has a great shelf life and ripens with time, turning yellow-orange on the outside.
To learn more about Winter Squashes, click 
here
.
ingredients:
1 1/2 lbs. Kabocha Squash
4-5 cloves garlic, minced
3/4 inch cube ginger, minced
1 tsp. Panch Phoran (see note)
3/4 tsp. salt
1/2 tsp. black pepper
1 1/2 tbsp. olive oil
1 tbsp. Balsamic vinegar
note:
You can buy Panch Phoran on my shop page.

preparation:
Preheat oven to 450 degrees F.
Rinse squash before cutting, seed and cut it into 1/4 inch thick half moons. There is no need to peel Kabocha, the skin is thin and gets tender during roasting.
Mix cut up squash, garlic, ginger, Panch Phoran, salt, pepper and olive oil in a bowl, tossing to make sure squash is evenly coated.
Spread in a foil lined, oiled baking sheet and bake for 20-25 minutes.
Place in a serving bowl and sprinkle with Balsamic vinegar.
Taste and adjust seasonings and serve!
Copyright © Rashmi Rustagi 2012. All Rights Reserved.
---