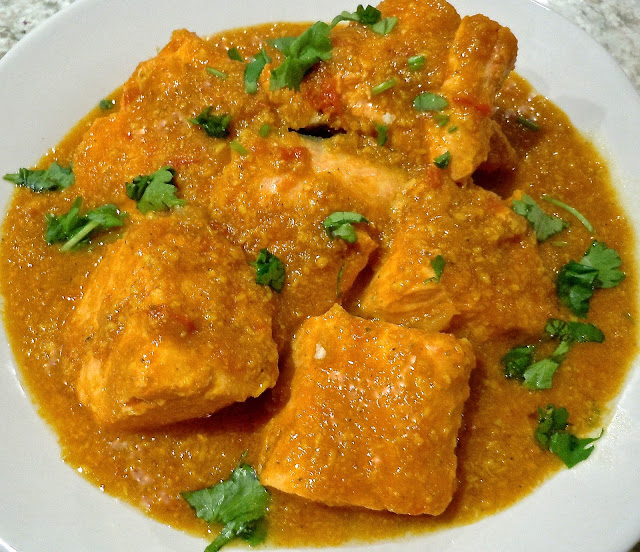 I love this Fish Curry because of its refreshing tart flavor, there are three souring agents in this recipe that work well together. Tomato and tamarind add richness to color as well. I prefer the texture of Trout for this dish and cook it with the skin for extra flavor. Any kind of fish tastes good in this sauce and even better if made a few hours before serving.
ingredients:
1 lb. Steelhead Trout or Salmon fillets cut into 2 inch squares
1 tbsp. lemon juice
3/4 tsp. salt, divided
1/3 cup coconut powder or flakes (see notes)
3-4 cloves garlic
1 tbsp. vegetable oil
1/3 cup fried onions or 1 cup chopped onions (see notes)
1 tbsp. Curry Powder
1/4 tsp. cayenne pepper
1 medium tomato, pureed
1 tsp. sugar
1 1/2 tbsps. tamarind concentrate
1/2 cup chopped fresh coriander (optional)
note:
If coconut is sweetened, reduce sugar to 1/2 teaspoon.
Fried onions are available at Indian markets.
You can buy Curry Powder on my shop page.
preparation:
Marinate fish in lemon juice and 1/4 teaspoon salt. Set aside for 30 minutes.
Grind garlic and coconut powder into a smooth paste, adding 1/4 cup of water.
Heat oil in a medium saucepan, add onions and saute until golden (skip this step if using fried onions).
Add curry powder and cayenne pepper, stirring for a few seconds until spices turn fragrant.
Add coconut-garlic paste. Stir for a few seconds.
Add tomato puree, sugar, 1/2 tsp. salt, tamarind concentrate, fried onions and 1 cup water, bring to a boil and simmer for 8-10 minutes.
Add fish pieces, bring to a gentle boil and simmer for a  minute, turn the fish over and simmer for 2-3 more minutes. Do not overcook.
Take pan off the stove, cover and let curry rest for a few minutes (fish will continue to cook).
Taste and adjust seasonings.
 Garnish with coriander and serve on Basmati rice.
Copyright © Rashmi Rustagi 2012. All Rights Reserved.
---