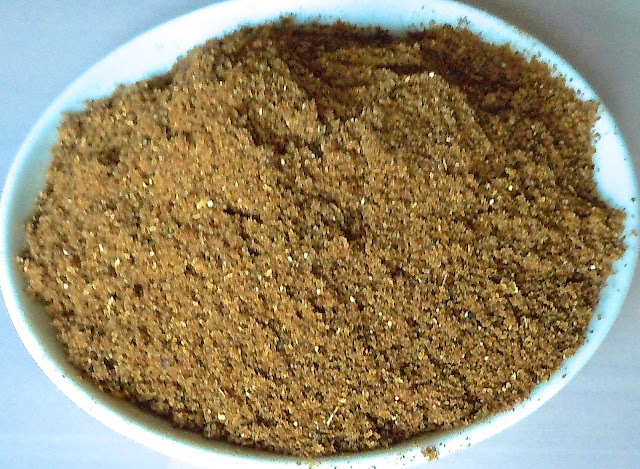 Garam means hot and Masala means spice. The heat does not refer to the spiciness but the effect these particular spices have on the body when eaten. Most commercial Garam Masala mixes have too much pepper so you have to use a small amount, ending up with a bland dish.
My recipe requires dry roasting the spices individually (they all have different heating points), grinding them and then mixing them. Since the spices are roasted, Garam Masala is usually added to the dish toward the end of cooking so that the flavor is not lost during cooking. This is one of my mom's popular recipes.
ingredients:
4 tbsp. coriander seeds
1 1/2 tbsp. cumin seeds
1 tbsp. whole black peppercorns
2 tsp. cardamom seeds
2 2-inch pieces of cinnamon sticks ( or 2 tbsp. broken pieces)
1 tsp. whole cloves
1 tsp. freshly grated nutmeg
note:
You can also buy Garam Masala on my shop page.
preparation:
In a small pan, on low or medium heat, separately roast coriander, cumin, peppercorns, cardamom, cinnamon, and cloves.
As each spice is lightly browned and starts to smell fragrant, turn on to a plate to cool.
Grind all the spices in a coffee grinder or blender into a fine power.
Mix in grated nutmeg.
Store in an airtight jar.
Copyright © Rashmi Rustagi 2012. All Rights Reserved.
---