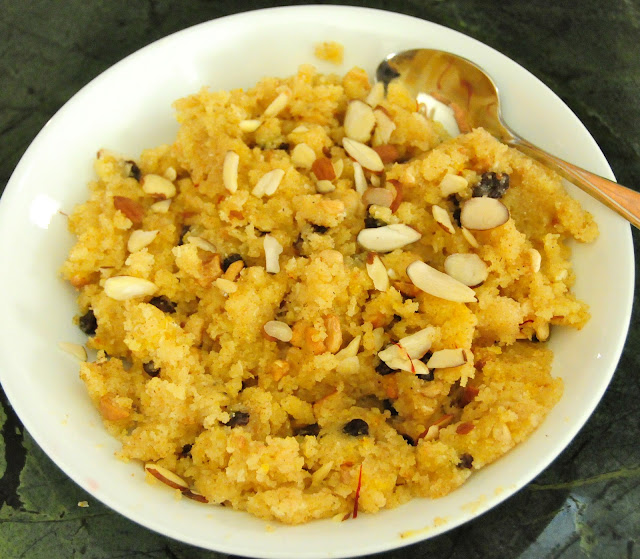 Sooji or Cream of Wheat Halwa is a popular dish in India. It is a comfort food and can be served for breakfast, lunch, dessert. It is also a popular 'Prasad' (food offered to God during pooja, or prayer session, and shared with everyone at the end). Traditionally, cream of wheat is roasted in butter or ghee in a pan over the stove, which is very tedious. My low fat, shortcut version in the microwave makes it simpler and easier to make Halwa. Other popular Halwas are Carrot Halwa, Moong Bean Halwa, Sweet Potato Halwa and Chana Daal or Besan Halwa.
ingredients:
3/4 cup regular cream of wheat (use the 21/2 minute version if regular is not available) or semolina
1/4 cup butter (1/2 stick)
3/4 cup sugar
1 1/2 cups milk
1/4 tsp cardamom powder
1/4 cup toasted, unsalted cashew pieces, optional (if you have raw nuts, toast them in the microwave for 1- 2 minutes)
2 tbsp. coconut flakes, optional
2 tbsp. raisins, optional
pinch of saffron (optional)
tablespoon of cashews and coconut for garnish. I used sliced, toasted almonds.
note:
Keep in mind that microwave timings may vary depending on the wattage of your machine. If you do not wish to use a microwave, you can cook it on the stove in a heavy bottom pan.
preparation:
Melt butter in microwave safe dish and cook for 2-3 minutes.
Add cream of wheat, microwave for 2 minutes, stir.
Continue to microwave in one minute increments until cream of wheat is golden brown and fragrant, a total of 3 to 4 minutes.
Add sugar, milk, raisins, nuts and cardamom powder (and saffron).
Microwave for another 2-3 minutes.
Cover and let Halwa rest for 5 to 10 minutes.
Garnish with remaining coconut and cashews and serve warm.
You can scoop Halwa into individual servings while still warm and serve as finger food.
Copyright © Rashmi Rustagi 2012. All Rights Reserved.

Vegan Halwa:
Follow the above recipe but substitute Canola oil for butter and water or almond milk for regular milk.
Gluten-Free Halwa: 
Follow the above recipe using cream of rice. Rice takes less time to brown so microwave in one minute increments.
---