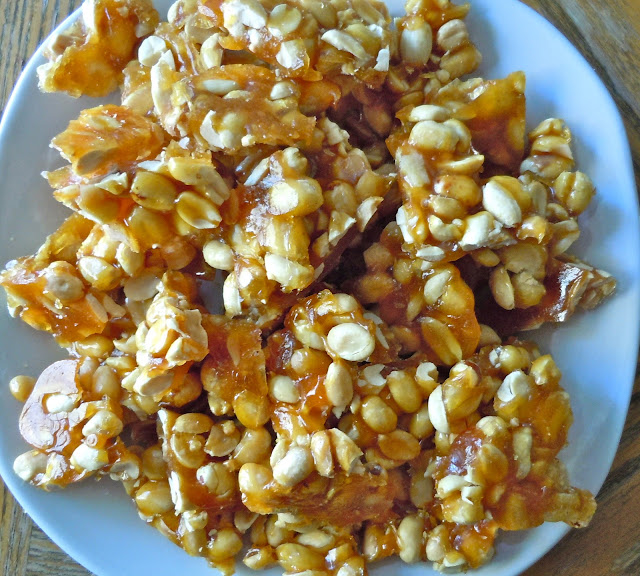 I have made Peanut Brittle for years using this recipe and it works like a charm! You will be amazed at how easy it is! Make a second batch and share with your friends. You can use hulled sesame seeds (white or black), mixed nuts, pumpkin seeds and my favorite, pine nuts. I like to toast the nuts to enhance the flavor. I use the least amount of sugar needed to bind the nuts together, so it is not overwhelmingly sweet and the taste of the nuts comes through.

pine-nut and sesame brittle
note:
It is easy to toast nuts and seeds in the microwave. Place one cup of nuts in a microwave safe plate, cook for two minutes on high power and continue to heat in one minute increments until nuts have a toasty fragrance. You can pan-roast them on the stove. When roasting larger quantities like 4-5 cups, roast them in the oven in a pan in a single layer at 350 degrees for 15-20 minutes, stirring every five minutes. Nuts continue to cook until cooled so don't overcook them.
ingredients:
3/4 cup sugar
1 tbsp. vegetable oil
pinch of salt
1 cup (heaping) roasted, unsalted peanuts, sesame seeds or any other nut of your choice
1/2 tsp oil for greasing the rolling pin and counter
preparation:
Grease a cutting board or counter and a rolling pin with oil.
Heat sugar, oil and salt in a heavy bottomed skillet on medium heat.
When sugar starts to melt, stir to keep it from burning at the edges; it will melt to a nice caramel color in about 3-4 minutes (watch the pan carefully).
Add peanuts, mix well with a spatula and turn onto the greased surface.
Quickly flatten peanut mixture with a greased rolling pin. It is okay if the surface is not too uniform, the disc will be broken up later.
When cool to touch, break into pieces and serve!
Store left-overs in an airtight container.
Copyright © Rashmi Rustagi 2012. All Rights Reserved.
---