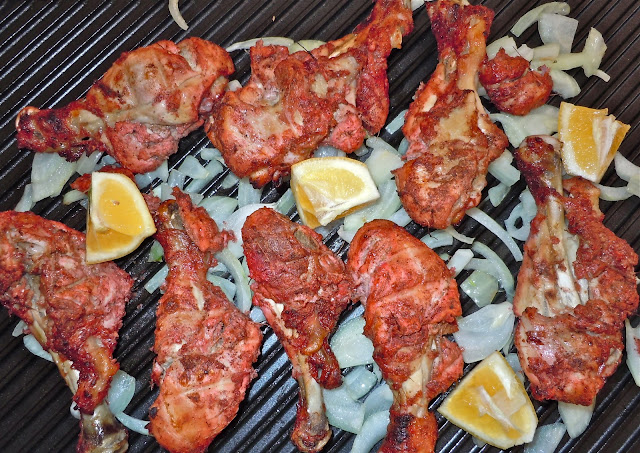 I have made this recipe for many years and it is always a hit! As the name suggests, Tandoori Chicken is cooked in a very hot clay oven but turns out just as well in the home oven. The secret is in the marinade which helps tenderize the meat.
I prefer to use chicken drumsticks and I think this is the most delicious way to prepare them.
ingredients:
2 lbs. skinned drumsticks, approximately 8 pieces (you can use other cuts of chicken)
1/2 cup whole milk yogurt, preferably Greek style
2 tbsp. lemon juice
3-4 cloves garlic, crushed (see notes)
3/4 square inch ginger, minced (see notes)
1 tsp. salt
1/2 tsp. cayenne pepper
1 tbsp. Garam Masala 
1 tbsp. vegetable oil or ghee
5-6 drops of red food color (optional)
extra melted butter for basting (optional)
notes:
One of my favorite gadgets in the kitchen is the immersion or stick blender. I use it for grinding, blending, making chutneys, tomato puree etc. If you have one, use it to grind ginger and garlic together with yogurt for the marinade.
You can buy Garam Masala on my shop page.
preparation:
On each side of each drumstick, cut a diagonal gash, all the way to the bone.
In a bowl, mix chicken with all of the ingredients except oil.
Marinate in the refrigerator overnight or at least 4-5 hours for the flavors to penetrate and the acid to tenderize the meat.
Heat oven to 400 degrees. Line an oven pan with foil, set a wire rack on top of the foil.
Lightly blend oil with chicken, coating each piece.
Arrange chicken wire rack and bake in the middle of oven for 25-30 minutes or until almost done.
Turn the pieces over and broil for 5 minutes.
Take chicken out of the oven, tent with foil and let it rest for 5-10 minutes before serving.
You can baste chicken with melted butter just before serving.
serving suggestions:
For a dramatic display, saute some thinly sliced onions on a griddle, arrange cooked chicken on top, garnish with coriander leaves and lime wedges and serve sizzling hot! The onions keep the chicken moist and prevent it from sticking to the griddle.
Copyright © Rashmi Rustagi 2012. All Rights Reserved.
---