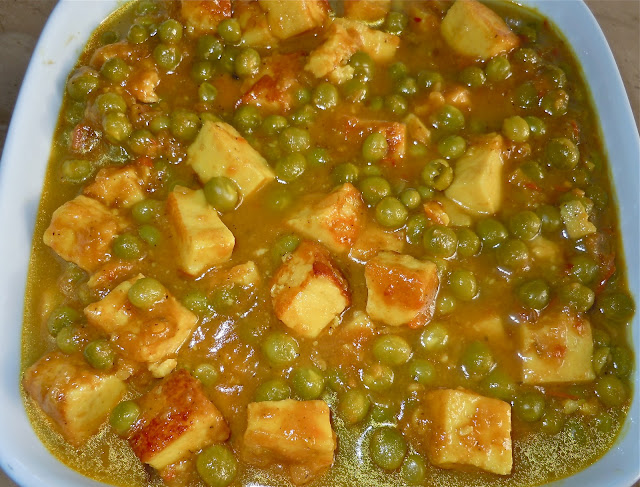 Matar or green peas and Paneer, also called Farmer's Cheese or Home Made Cheese compliment each other in this dish. Paneer always tastes better in a curried sauce since it does not have a strong flavor of its own. I do not use baby peas because I find them too sweet; I usually buy shelled frozen peas from an Indian store or use fresh shelled English peas. You can buy Paneer from a store or make your own Paneer.
ingredients:
3 tbsps. vegetable oil
1 lb. Paneer cut into 1/2 inch cubes
1/2 tsp. cumin seeds
1/2 cup fried onions (see notes)
2 tbsps. Rashmi's Blend
1 tbsp. minced ginger
1 tsp. salt
1 large tomato pureed (1 1/2 cups)
2 cups fresh or frozen shelled peas
1 tsp. Garam Masala (optional)
1/2 cup chopped fresh coriander leaves (optional)
notes:
Fried onions are available at Indian markets.
You can substitute fried onions with 1 1/2 cup chopped fresh onions. Read more on how to fry onions.
You can buy Garam Masala and Rashmi's Blend on my Shop page.
preparation:
Heat one tablespoon oil in a non-stick skillet over medium heat.
Add Paneer pieces and brown them lightly on each side, turning frequently (watch Palak Paneer video if you need more information on how to fry Paneer). Set aside.
Heat remaining oil in a medium saucepan.
Add cumin seeds.
When cumin starts to crackle (if using fresh onions add them now and saute until golden), add Rashmi's Blend, stir for a few seconds.
Add ginger, salt, fried onions and tomato puree, stir.
Add 2 cups of water and bring gravy to a boil.
Add peas and Paneer, bring to a boil, cover and simmer until  peas are tender, about 10 minutes.
Add more water depending on the thickness desired; I prefer a stew-like consistency.
Taste and adjust seasonings.
You can add one teaspoon of Garam Masala to make it spicy.
Garnish Matar Paneer with chopped fresh coriander leaves and enjoy!
Copyright © Rashmi Rustagi 2012. All Rights Reserved.
---