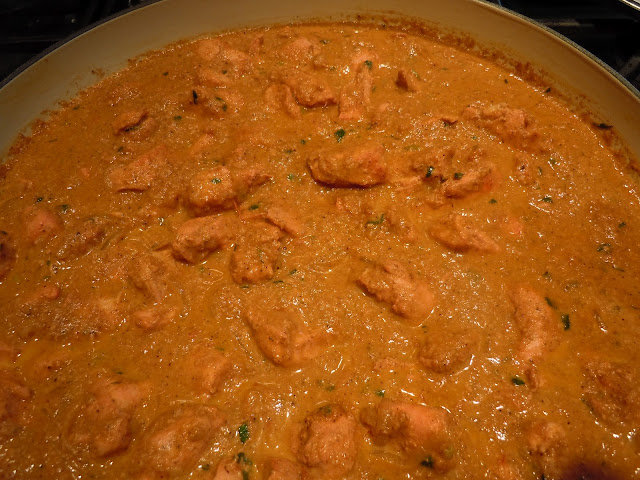 I love the buttery, tangy, smoky flavor of Murg Makhani or Butter Chicken. It is popular with kids and adults alike and I receive many requests from my guests for this recipe. Fenugreek leaves deliver a very unique flavor to Butter Chicken; dried leaves are available all year round and fresh fenugreek is available during the summer at Indian supermarkets. The addition of smoke flavor and food color gives Butter Chicken the clay-oven baked appearance and flavor.
Butter Chicken is really easy to make and if you are craving some creamy chicken, you don't have to go far and spend much. Serve Butter Chicken with Naan or Basmati rice.
ingredients:
for marinade:
2 whole chicken breasts (about 3 lbs.) cut into 1 inch chunks
1/2 cup whole milk yogurt
2 tbsps. lemon juice
4-5 cloves garlic
3/4 square inch piece ginger
3/4 tsp. salt
1/2 tsp. cayenne pepper
2 tsps.
Garam Masala
2 tbsps. butter, melted
6-7 drops red food color (optional)
1 large onion, sliced or chopped (about 2 cups) (see notes)
2 tbsps. 
Rashmi's Blend
2 tsps. sugar
1 tsp. salt
4 cloves garlic, minced
3/4 square inch piece ginger, minced
1 large tomato, chopped or 1 1/2 cups canned tomato puree
2 tbsps. tomato paste (see notes)
3 tbsps. dried fenugreek (methi) leaves, rinsed (see notes)
1 tsp. 
Garam Masala
1/4 tsp. liquid smoke flavor
1/2-3/4 cup heavy cream
1/2 tsp. chopped green chilies (optional)
1/2 cup chopped fresh coriander (optional)
notes:
Do not use paste if using canned puree which is thicker than pureed fresh tomato.
You can use 3/4 cup fried onions available at Indian markets.
You can use 2 tablespoons minced, fresh fenugreek leaves instead.
You can buy Garam Masala and Rashmi's Blend on the
Shop
page.
preparation:
Marinate chicken: grind ginger and garlic into a paste, mix with lemon juice, yogurt, salt, Garam Masala, cayenne pepper, melted butter and food color.
Mix in chicken and refrigerate 2-3 hours or overnight.
Take chicken out of refrigerator to bring to room temperature (about an hour) before cooking.
Preheat oven to 350 degrees F.
Spread chicken in a foil-lined tray and bake for 20 minutes (it is okay if chicken is not completely cooked, it will finish cooking in the gravy).
Make gravy: while chicken is baking, melt butter in a medium pot.
Add onions when butter starts to sizzle.
Fry onions until nicely browned. (If using fried onions, skip this step, just add 2 tbsps. butter to the pan and proceed).
Add Rashmi's Blend, salt and sugar. Stir until spices start to bloom, a few seconds.
Add garlic, ginger, stir for a few seconds.
Place onion mix in a blender, add chopped tomato and paste and grind into a fine paste, the sauce should be silky-smooth.
Transfer onion mix back to the pot.
Add about one cup of water, fenugreek leaves and Garam Masala.
Bring to a boil, cover and simmer 8-10 minutes.
Add smoke flavor, (green chilies) and cooked chicken, reserving chicken juices in the pan.
Bring to a gentle boil, check to see if chicken is cooked.
Remove pot from the stove, add heavy cream.
If gravy is too thick, add some of the reserved chicken juice.
Taste and adjust seasonings.
Sprinkle with chopped fresh coriander and serve with fresh baked Naan!
Copyright © Rashmi Rustagi 2012. All Rights Reserved.
---