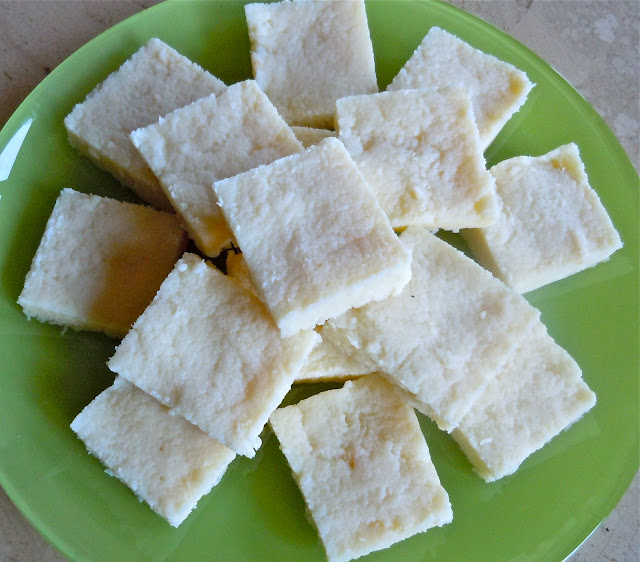 Burfi gets its name from Burf which means snow.There are many kinds of Burfis and the main ingredient is Khoa or Mawa. Khoa is made by cooking milk until all the liquid has evaporated, leaving a ricotta cheese like solid. Khoa is hard to find and since making it is very time consuming, I use ricotta cheese for all my Burfis which works just as well. For a creamier, baked version, try Rabri Burfi  too.
note:
Kewra is extracted from the pandanus flower and used in Indian cooking for flavoring sweets and some meat dishes. It is available in a diluted form called kewra water or a concentrate called kewra essence.
preparation:
In a heavy bottomed skillet, preferably non stick, melt butter.
Add ricotta and sugar and stir until well mixed.
Add powdered milk, continue to stir until the batter is thick and leaves the sides of the pan, about 8 minutes.
Add kewra or cardamom, spread in a buttered 8×8 square pan.
Cool and cut into 1 1/2 inch squares. Serve!
Store any left-overs in the refrigerator.
Copyright © Rashmi Rustagi 2012. All Rights Reserved.
---