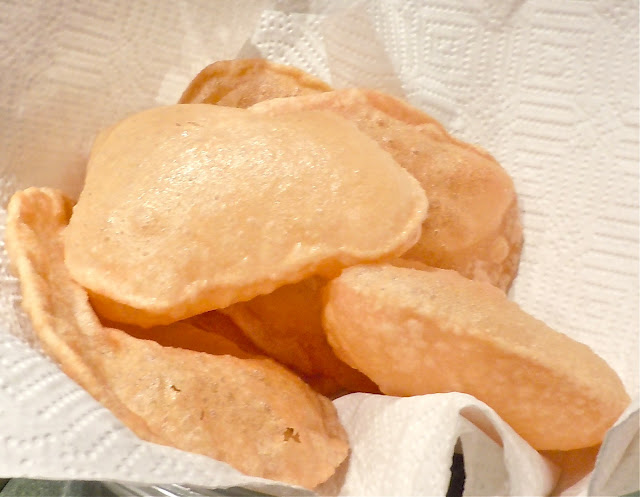 There are many kinds of Indian breads. Most of them are unleavened flatbreads made with whole wheat flour and water, like puri (pronounced POO-ree). Puri is rolled out, deep-fried, and served fresh out of the hot oil. It's not only fun to make, but fun to watch the puris puff up as they cook. I love the taste of puris with either sweet or savory accompaniments, like Aloo Gobhi or Chhole. This recipe makes 14-16 puris.
ingredients:
1 1/2 cups of whole wheat or chapati flour
pinch of salt (optional)
3/4 cup water
2-3 cups oil, for frying
preparation:
Measure the whole wheat flour and salt (if using) into a large bowl. Slowly add the water until you have a stiff dough. In a stand mixer with the dough hook attachment, knead the dough for 2-3 minutes. Cover the surface of the dough with a little bit of neutral oil in order to keep the dough from drying out. Let rest, uncovered, for 15-20 minutes.
Divide the dough into 14-16 portions, rolling them into balls. Flatten each into a thick patty before rolling into a 3-4 inch circle that is about 1/8 inch thick on an oiled surface. Roll all of the puris out before frying.
Heat the oil in an 8-10 inch frying pan until oil is hot but not smoking, about 325 degrees F. Gently slide 2-3 puris into the hot oil. As the puris start to rise to the top, push them down with a slotted spoon until they puff up. Turn the puris over and fry them for a few seconds until they start to turn golden brown. Remove from the oil and let them drain on paper towels. Serve fresh Puri and enjoy!

Copyright © Rashmi Rustagi 2012. All Rights Reserved.
---