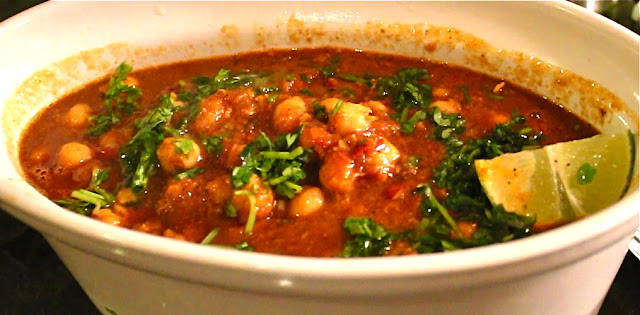 Chhole or Chana Masala is a popular vegetarian curry available at most Indian restaurants. Garbanzo beans were introduced to India fairly recently and were called Kabuli Chana for the longest time. My mother remembered eating Chhole for the first time as a teenager when Punjabi restaurants and 'Dhabas' started serving them in her home town in Eastern India.
I usually buy dried garbanzo beans (also called chick peas), soak them and cook them in a pressure cooker before adding the spices. If you are in a hurry, you can use canned beans but I encourage you to try cooking the dried ones, you will love the taste. Cook a double batch and save some for sprinkling on salads, adding to mixed vegetable curry or rice pulao.
ingredients:
1 1/2 cups dried garbanzo beans or 2 (15 ounce) cans (see notes)
1/2 tsp. salt
1 cup chopped onion
2 1/2 Tbsps. vegetable oil
3 cloves garlic, minced
3/4 inch cube of ginger, minced
2 Tbsps. coriander powder* (see notes)
2 tsp. cumin powder* (see notes)
1/2 tsp. cayenne* (see notes)
1 tsp. turmeric* (see notes)
1/2 tsp. black pepper* (see notes)
1/2 tsp. cinnamon powder* (see notes)
1/4 tsp. cardamom powder* (see notes)
1/4 tsp. clove powder* (see notes)
1 medium tomato, pureed
1 tsp. chopped green chilies (optional)
1/4 cup chopped fresh coriander leaves (optional)
Lime or lemon wedges for garnish
notes:
To learn how to cook the dried beans 
click here.
 or go to 'All about Daals and Beans'.
You can buy Rashmi's Blend and Garam Masala on my Shop page.
preparation:
Drain beans and set aside. You can save the liquid to add to the gravy later.
Grind onion, ginger and garlic in 1 1/2 Tbsps. oil using an immersion blender. You can use a blender, food processor or cutting board to dice and mince them.
Heat remaining 1 Tbsp. oil in a saucepan. Saute onion-garlic mixture until golden brown.
Add coriander, cumin, cayenne and turmeric (or Rashmi's Blend) and saute a few seconds until spices turn fragrant and start to brown.
Add cinnamon, cardamom and cloves (if using Garam Masala instead, add it now, do not brown it). Stir.
Add tomato puree. When the sauce starts to simmer, add cooked beans and enough water to have a stew like consistency.
Bring to a boil and simmer for 4-5 minutes. Taste and adjust seasonings.
Add coriander leaves just before serving and garnish with lemon wedges and sliced onions.
Copyright © Rashmi Rustagi 2012. All Rights Reserved.
---