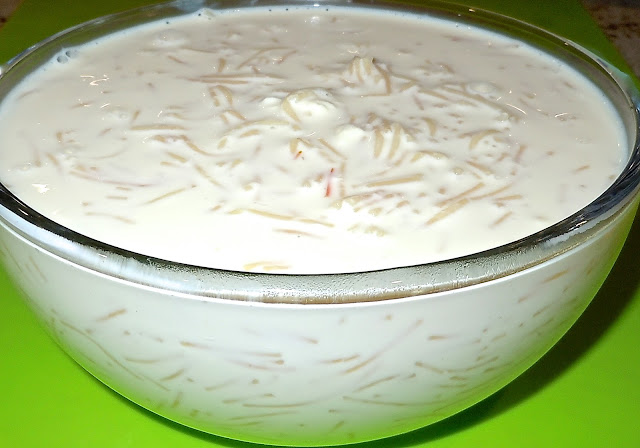 Seviyan or Indian vermicelli is thinner than Italian vermicelli and is used for making desserts and savory dishes. The hair-thin noodles are made from semolina with a machine. Our aunts and neighbors made a similar version by hand called Javey by rolling the dough between their fingers, almost as thin as the machine-made ones and drying them in the sun.
Seviyan Kheer and a dry version called Zarda Seviyan is a popular dessert in Muslim households as well, I remember having Seviyan for Eid at our friend's homes. My children prefer Seviyan without any nuts but it tastes great with a touch of raisins and toasted chironji nuts.
Make some today and serve it for breakfast, snack or dessert!
ingredients:
3 cups milk
2 cups half-and-half
1/2 cup roasted Seviyan or Indian vermicelli (see notes)
1/3 cup sugar
one pinch salt
pinch of saffron (optional)
3-4 drops kewra essence
1/4 cup raisins, chopped almonds, pistachios or chironji nuts (optional)
notes:
Seviyan are available regular and roasted. You can buy either kind but sometimes the roasted ones are not golden brown in color, toast them in a microwave for 1-2 minutes or in a frying pan to get the desired color.
For a creamier version, add Seviyan at the same time as milk and half-and-half.
preparation:
Heat milk and half-and-half in a heavy saucepan (see notes).
When milk mixture comes to a boil (about 12 minutes), add Seviyan, sugar and salt.
Bring to a boil, stirring to keep Seviyan from sticking to the pan.
Simmer uncovered for 10-12 minutes.
Add kewra (and nuts).
Seviyan will continue to thicken as they cool.
Serve warm or chilled.
Copyright © Rashmi Rustagi 2012. All Rights Reserved.
---