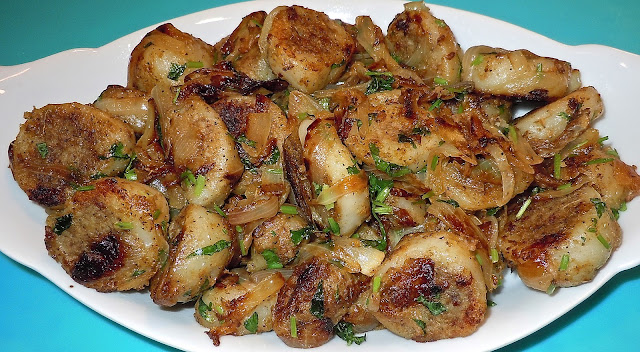 Phara is a boiled dumpling made with daal and rice flour or wheat flour, a very creative way to use protein rich daal in a lean, healthy dish. Phara can be served as a meal, snack or side dish. Indian vegetarian food is so innovative!
Phara is not a common Indian dish, made only in certain families; we can call this an heirloom recipe!
My mom made Phara occasionally and specially on the festival of 'Karva Chauth' when married women fast all day and eat after praying to the moon, God of love.
You can use rice flour or whole wheat flour for the dough or a combination of rice and whole wheat (chapati) flour. Once the dumplings are boiled, they can be eaten warm with butter or olive oil or pan-fried with onions, ginger and garlic for a whole new look and taste. When I serve the pan-fried version, people are surprised to learn that it's not some exotic vegetable.
ingredients:
for the filling:
1/2 cup skinless Urad Daal, soaked and drained
2 Tbsps. Chana Daal, soaked and drained
1 tsp. crushed fennel seeds
1/2 tsp. chopped green chilies (optional)
1/2 tsp. salt
1/4 tsp. powdered cloves
1/4 tsp. asafoetida
1/4 tsp. black pepper
1/4 tsp. baking powder
1 tsp. grated ginger (optional)
for the dough:
1 cup rice flour or whole wheat flour or 1/2 cup of each
1 tsp. vegetable oil
1/4 tsp. salt
about 1/2 cup warm water
preparation:
Place the soaked, drained daals in food processor along with fennel seeds, (green chilies), salt, cloves, asafoetida and black pepper.
Coarsely grind daal, taking care not to grind it too fine. Set aside.
Mix flour, oil and salt in a bowl, slowly add warm water to make a smooth dough. Set aside for 10 minutes.
Bring 4-5 cups of water to a rolling boil in a 3-4 quart pot (make sure the water is about 1 1/2 inches deep).
Mix baking powder into daal mix and divide into 10 equal portions, lightly rolling each into an oval shape (moisten your hands with water if daal is sticky to handle).
Divide dough into 10 portions. Pat each piece into a 3 1/2 inch by 2 inch oval in the palm of your hand or on a cutting board, lightly oiling the surface to keep from sticking.
Place one daal oval in the center of the dough patty, bringing up all sides of the dough to cover daal mix completely. Roll gently into a smooth oval.
Finish making the rest.
Gently drop all Pharas into boiling water, one at a time.
When water starts to boil again, lower heat to medium and cook Pharas for 10 minutes.
Cover pot and remove from stove as Pharas continue to cook for 10 more minutes.
Serve warm Pharas with a sprinkling of ghee, butter or olive oil and with Coriander Tomato Chutney 
Or pan-fry them following the recipe below.
for pan frying:
1 1/2 cups sliced onions
2-3 Tbsps. olive oil
2-3 cloves garlic
3/4 inch cube ginger root
1/4 cup water
1 tsp. cumin powder
1/4 tsp. black pepper
1/4 tsp. ground cloves (optional)
1/4 tsp. salt
1/2 cup chopped coriander leaves
note:
For variety, you can skip onions, just saute Phara in oil with the rest of the seasonings. Onions do add an extra layer of flavor and keep Phara moist.
to pan fry:
Slice each Phara cross-wise into 4-5 discs.
Grind garlic and ginger into a smooth paste using an immersion blender or grinder and 1/4 cup water.
Mix in cumin powder, pepper, (cloves) and salt, set aside.
Heat oil in a skillet, preferably non-stick, on medium heat.
Add onions and fry until they turn golden (about 5 minutes).
Add Phara, stir.
Add ginger-garlic-spice mix; continue to fry, stirring occasionally, until Phara pieces turn light brown (8-10 minutes).
Taste and adjust seasonings, sprinkle with coriander leaves and serve with Coriander Tomato Chutney and Cucumber Raita!
Copyright © Rashmi Rustagi 2012. All Rights Reserved.
---