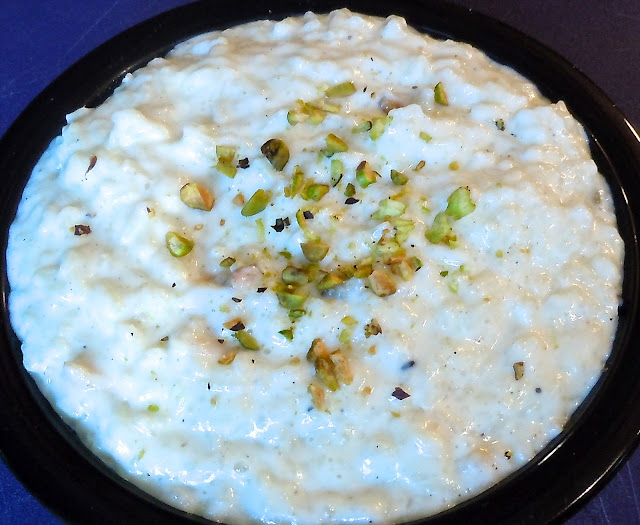 Rice Kheer or Pudding is cooked in some variation in every culture! In India, I grew up eating different kinds of Kheer such as Semolina Kheer, Vermicelli Kheer, Makhana Kheer, Carrot Kheer and Lauki Kheer. The main ingredient in Kheer is whole milk, choice of vegetable or grain and sugar.
Rice Kheer is the most popular of all; it is made on every special occasion and used as an offering at religious events. The best Rice Kheer is made with starchy, medium grain rice and cooked slowly so the starch is released into the milk, making it creamy and smooth. Rice Kheer should be moonlight-white in color.
My mom made Rice Kheer specially on the day of the full moon of Autumn (Sharad Purnima), left it out in the moonlight all night (covered with a muslin cloth) and fed it to us for breakfast. It was absolutely delicious!
ingredients:
3/4 cup jasmine rice or medium grain rice
4 cups whole milk
2 cups half-and-half
1/2 cup sugar
1/8 tsp. salt
1/2 tsp. cardamom powder
2-3 tbsps. slivered almonds (optional)
1 tbsp. crushed pistachios (optional)
2 tbsps. chopped raisins (optional)
preparation:
Wash rice and soak it in water for about 30 minutes.
Drain rice and crumble lightly with your fingers.
In a heavy bottomed saucepan, mix rice, milk and half-and-half and bring to a gentle boil on medium heat (about 12-15 minutes), stirring occasionally, scraping to keep rice from sticking.
Add sugar, salt and cardamom, turn the stove down to low and cook until Kheer starts to thicken (about 15 minutes), stirring occasionally.
Remove pot from stove (add nuts, raisins).
Kheer will continue to thicken as it cools, add extra milk if it gets too thick.
Serve warm or cold.
Copyright © Rashmi Rustagi 2012. All Rights Reserved.
---