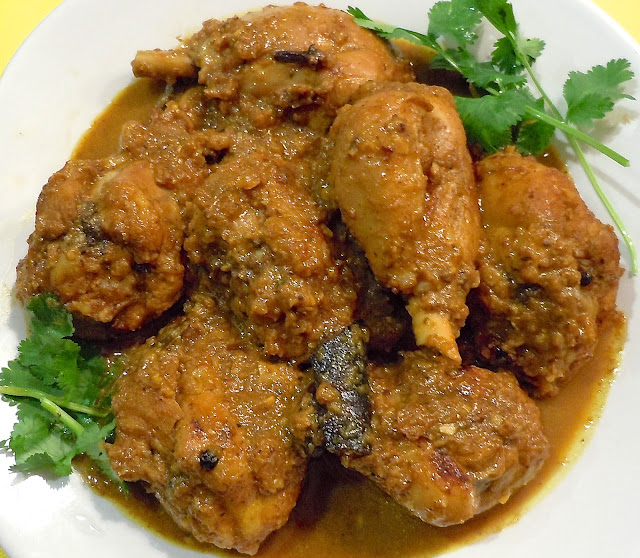 Masala Chicken is quite simple to make and has a delicious gravy to serve with rice. I like to use drumsticks for this recipe, cutting the bone tips off for a rounded shape and richer gravy. Mincing the onion gives body to the gravy and the whole spices give a subtle flavor to the sauce with an occasional burst of flavor from coriander seeds, clove and black pepper.
ingredients:
2 lbs. drumsticks, skinned, bone tips cut off (see note)
1/3 cup yogurt
1 tsp. salt
1/2 tsp. turmeric
1/4 tsp. cayenne pepper
1 small onion cut into eighths
3/4 inch cube ginger
3-4 cloves garlic
2 tbsps. oil
2 bay leaves
8-10 whole cloves
1/2 tsp. coriander seeds
2 inch piece cinnamon, broken in half
2-3 whole brown cardamoms
1/2 tsp. black peppercorns
1/4 cup coriander leaves for garnish
note:
Cutting the bone tip is optional, I use a cleaver to cut an inch off the bone end (it is easier to cut if the chicken is partially frozen). Check the cut end for any bone splinters and throw them away.
You can use chicken thighs or a combination of both.

preparation:
Marinate chicken in yogurt, salt, cayenne and turmeric for 30 minutes at room temperature or longer in the fridge.
Finely chop onion, ginger and garlic in a food processor.
Heat oil in a heavy saucepan on medium heat.
Add bay leaves, cloves, coriander seeds, cinnamon, cardamom and peppercorns.
Stir for a few seconds until spices start to sizzle and coriander seeds turn golden.
Add onion-garlic mixture, saute until golden brown, about 8-10 minutes.
Add chicken, stir well.
Turn heat down to medium low, cover and simmer for 30 minutes, stirring occasionally.
Add 1/2 cup water when onion starts to stick to the pan.
Let Masala Chicken rest for 10 minutes.
Remove cardamom pods and bay leaves.
Garnish with coriander leaves and serve with rice or Naan.
Copyright © Rashmi Rustagi 2012. All Rights Reserved.
---