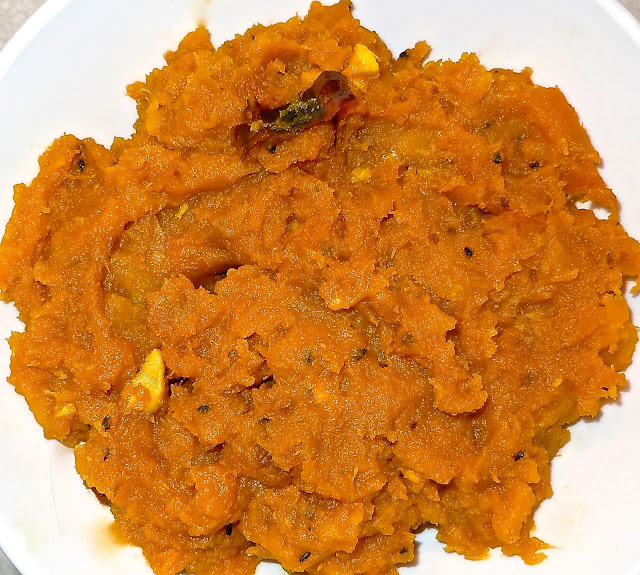 I grew up eating pumpkin, called 'Kaddu' in Hindi, as a vegetable. The first time I ate it as a dessert (pie) was in America which was amazing.
There is no Halloween in India so the pumpkin available in the market is the eating kind; it has a smooth, moist texture when cooked. For all my pumpkin recipes, I usually buy 'sugar' pumpkin or 'fairytale' pumpkin, they cook really well and have a buttery-soft texture. Pumpkin should fall apart as it cooks and easily mash with a spatula. Kaddu is commonly served with Puri or as a side dish with daal and rice.
Serve Mashed Pumpkin instead of potatoes next time, your taste buds will love you!
ingredients:
1 tbsp. olive oil or mustard oil
1/2 tsp. Panch Phoran
1 dry red chili, broken into 2-3 pieces (see notes)
2 clove garlic, chopped
1/2 tsp. turmeric
1 lb. cooking pumpkin, peeled and cubed (see notes)
1/2 tsp. salt
1/2 cup water
1 tbsp. tamarind concentrate (see notes)
notes:
You can substitute 1/4 teaspoon of red pepper flakes for the chili.
Raw pumpkin is hard to peel, cut it into small pieces before peeling or pierce whole pumpkin with a fork in several places and cook in the microwave for 3-4 minutes on high. Once pumpkin has cooled, it is soft enough to cut and peel easily.
You can substitute one tablespoon of mango powder for tamarind.
Panch Phoran recipe is posted on the blog or you can buy it on my shop page.
preparation:
Heat a frying pan or skillet on medium heat.
Add oil, Panch Phoran and chili pieces.
When spices begin to sizzle, add garlic and stir until golden, (do not let garlic brown, it will turn bitter).
Add pumpkin, salt and turmeric. Stir to mix well.
Add 1/4 cup water, cover the pan and simmer for 10 minutes, stir. If  pumpkin is soft enough to mash with the spatula, it is cooked. If not, continue to cook covered for another 5 minutes, adding a few tablespoons of water if pumpkin starts to stick to the pan.
Mix in  tamarind concentrate and mash pumpkin lightly, leaving a few chunks.
Taste and adjust seasonings and serve!
Copyright © Rashmi Rustagi 2012. All Rights Reserved.
---