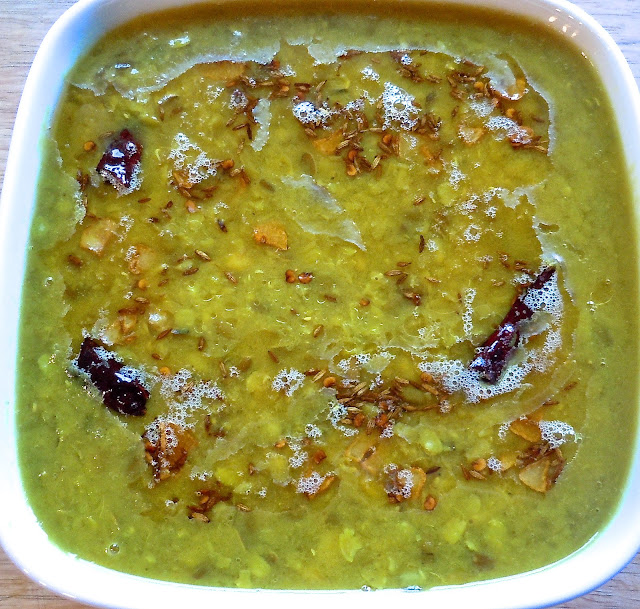 Daal is a legume, high in protein, fiber and amino acids and a staple of a balanced Indian meal. There are many varieties of Daal, I can make a different daal for each day of the month without repeating a recipe!
Panch means five and Ranga means color. This recipe combines five different Daals with and without skin, giving it a unique flavor and texture. Mango powder adds the slight tart taste. When available, fresh raw mango slices can be added instead.
ingredients:
1/4 cup Chana daal
1/4 cup Toor daal
1/4 cup Moong daal with skin
1/4 cup Urad daal with skin
1/4 cup Lentil without skin (pink lentil)
1 tsp. turmeric
1 tsp. salt
1/3 tsp. asafoetida powder
1 tbsp. mango powder (optional)
1/2 tsp. minced ginger (optional)
tadka/chhaunk:
1 tbsp. ghee or 1 1/2 tbsp. butter
1/2 tsp. cumin seeds
1 dried chili, broken in half (optional)
2-3 cloves garlic, chopped
note:
You can add 1/2 cup chopped onions to the tadka. Fry the onions with garlic until onions turn golden.
preparation:
Wash and rinse mixed daals.
Place in a medium saucepan with 4 cups water.
Add salt, turmeric and asafoetida (mango powder and/or ginger).
Bring to a boil, cover and simmer for 40-45 minutes until daal is very soft. Stir, adding more water to bring it to the desired consistency.
Pour into a serving dish.
Melt ghee in a small frying pan. If using butter, let it cook a little until it starts to brown.
Add cumin (chili pieces).
When cumin seeds start to sizzle, add garlic, frying for a few seconds.
Pour sizzling tadka over Daal Panchrangi and serve!
Slow Cooker Method
Follow recipe above but cook daal in a slow cooker for 3-4 hours on high or 7-8 hours on low.
Copyright © Rashmi Rustagi 2012. All Rights Reserved.
---