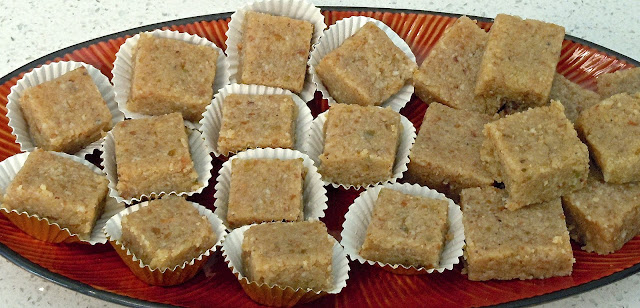 Most of us do not eat as many nuts as we are supposed to, specially children. Meva Burfi is a delicious and healthy way to get your daily dose of this nutrition packed food. I stumbled upon this recipe when I wanted to make Almond Burfi and realized that I did not have enough almonds. I added some walnuts instead and loved the flavor! Walnuts are not very conventional in Indian desserts, specially Burfi. I added some coconut, cashews, and pistachios for color, each nut adding a complexity of flavor. The original recipe had no added butter because of the high fat content in almonds and I kept that but added a touch of cardamom which brings all the nut flavors together. In addition to the milk protein, ricotta cheese provides the moisture needed to soften the nuts and give Meva Burfi its fudge-like texture.
You can use more or less of one nut or another or different nuts such as pecans, pine nuts, shelled pumpkin seeds, just keep the quantity of the ground nuts close to 2 1/3 cups.
ingredients:
1/2 cup walnuts
1/2 cup almonds
1/2 cup cashews
1/4 cup pistachios
1/4 cup coconut powder
15-16 ozs. ricotta cheese
1/8 tsp. salt
1 1/8 cups sugar
1/2 tsp. cardamom powder
preparation:
Mix all the nuts and coarsely grind them in a food processor until they look like bread crumbs. Do not grind them too fine. You will have about 2 1/3 cups of ground nuts.
Lightly butter one half of a 1/2 inch deep, 10×14 cookie sheet and set aside.
Heat a medium saucepan, preferably non-stick.
Add ricotta, salt and sugar. Stir occasionally until sugar is melted and ricotta is bubbly.
Add nuts and cardamom.
Continue cooking and stirring until the mixture leaves the sides of the pan, about 12-15 minutes.
Transfer to prepared pan, spread with a spatula and pat Burfi down.
Cool. Mixed Nut Burfi will have a soft, fudge like texture.
Cut into squares and serve! Refrigerate any left overs.
Copyright © Rashmi Rustagi 2012. All Rights Reserved.
---