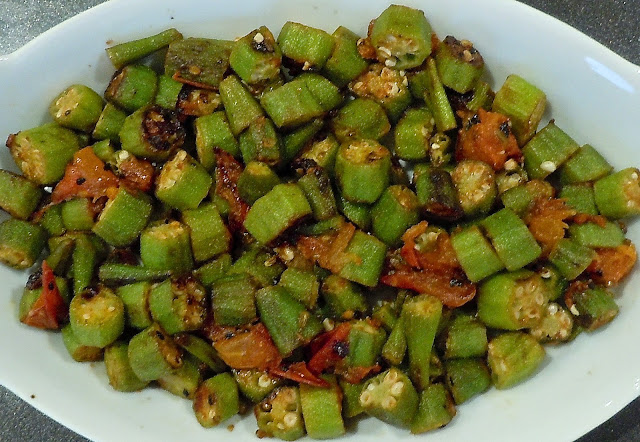 Bhindi is also known as Okra or Ladies Fingers in India and is a delicious and nutritious vegetable. A relative of the hibiscus family, it is high in fiber, calcium and vitamins. Because of its mucilaginous property, Okra gets slimy when added to water; it is best to saute Okra in a non-stick pan or bake it in the oven. Adding an acidic ingredient such as lemon juice or dried mango powder helps get rid of the sliminess. In this easy recipe I use tomatoes which boost the the flavor.
ingredients:
1 tbsp. oil
1/2 tsp. Panch Phoran
1/4 tsp. cayenne pepper
pinch of asafoetida (optional)
1/2 lb. okra cut into 1/4 inch disks
1 medium tomato diced
1/4 tsp. salt
note:
You can buy Panch Phoran on my shop page.
preparation:
Heat oil in a non-stick skillet on medium heat.
Add Panch Phoran.
When spices begin to crackle, add cayenne pepper and asafoetida, stir and immediately add  okra, tomatoes and salt.
Stir and cook covered for 5-7 minutes, stirring a couple of times to release the steam and to turn  okra over.
Lower the heat, uncover and cook for another 5 minutes, stirring occasionally until okra starts to brown.
Serve hot with Daal and rice.
Copyright © Rashmi Rustagi 2012. All Rights Reserved.
---