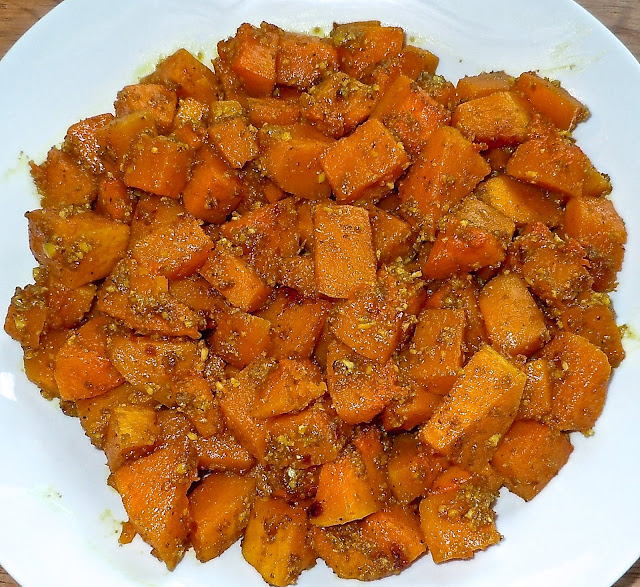 Growing up in India, I had not seen a Butternut Squash until I came to America. I grew up eating many other squashes specially
pumpkin
which my mom prepared in several ways. I fell in love with the texture and smooth taste of Butternut Squash and I try to cook it in as many ways as possible. The sweetness of the vegetable varies with each squash, sometimes I add Balsamic vinegar for its acidity to balance the sweetness. This recipe is really easy to make in the oven and so delicious!
ingredients:
1/1/2 lb. butternut squash, peeled and cut into 3/4 inch cubes (about 4 cups)
1 tbsp. Curry Powder (see note)
1 1/2 tbsps. oil
3-4 cloves garlic, minced
2 tsps. mango powder (amchoor)
3/4 tsp. salt
1/4 tsp. red pepper flakes
1-2 tsps. balsamic vinegar (optional)
note:
You can buy Curry Powder  on my shop page.
preparation:
Preheat oven to 425 degrees F.
Line an oven tray with foil, spray with non-stick spray or brush with oil.
In a bowl, combine squash and the rest of the ingredients, except vinegar. Mix well so the squash is evenly coated with the spices and oil.
Spread squash in the oven tray and bake for 20-25 minutes until tender (for more browning you can place under the broiler for 2-3 minutes).
Transfer to a serving bowl, taste and mix in Balsamic vinegar and serve!
Copyright © Rashmi Rustagi 2012. All Rights Reserved.
---