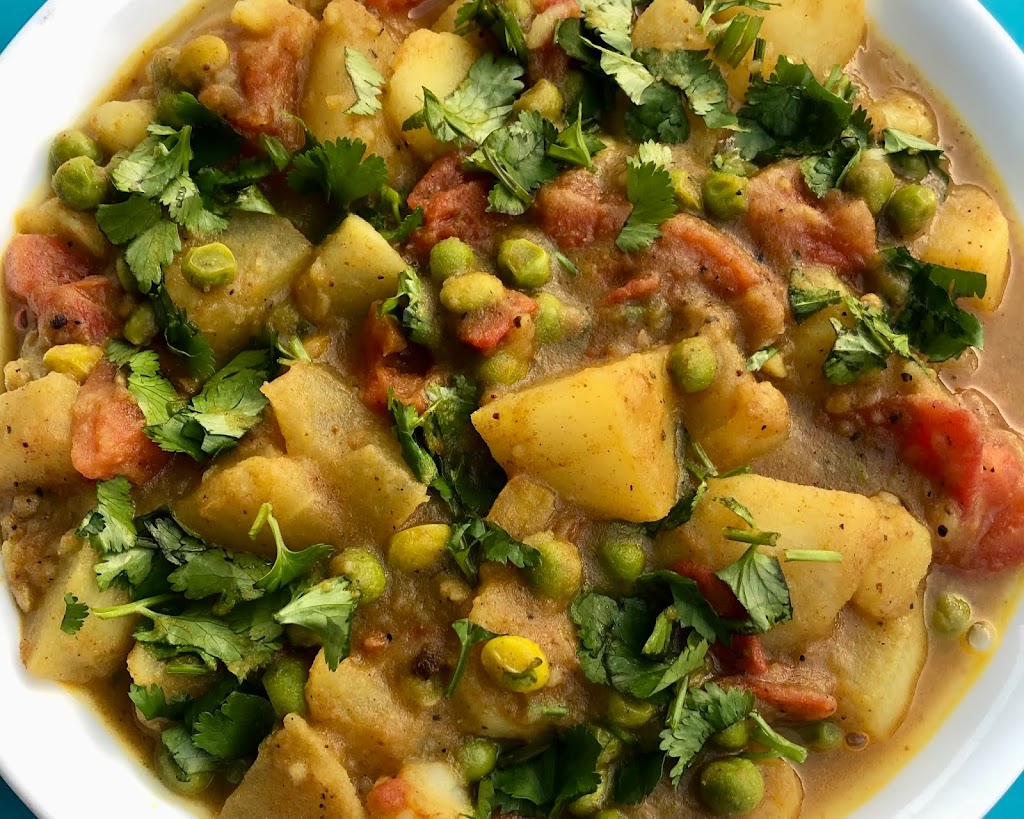 Turnip is one of those vegetables that most people ignore at the grocery store. We just don't know what to do with them besides roasting them. Since turnips do not have much flavor, the spices in a curry sauce really boost their taste. My mom would sometimes add them to a meat dish such as goat curry and they tasted delicious! This turnip curry with potatoes, peas and tomatoes, is a classic winter 'Indian stew' that tastes great with rice or roti.
ingredients:
2 medium turnips (about one pound)
1 medium potato
2-3 medium tomatoes (or 1/3 cup canned tomato puree)
1/2 cup fresh or frozen green peas
1 tsp. ginger, minced
2 Tbsps. oil or ghee
1 Tbsp. Rashmi's Blend (see notes)
1/4 tsp. black pepper
1 tsp. salt
1 tsp. Garam Masala (see notes)
1/4 cup chopped cilantro
notes:
You can make these spice blends by following the recipe or you can buy them on Etsy.
preparation:
Peel and chop each turnip 8-12 pieces, depending on the size.
Peel and cut the potato 12 pieces.
Dice the tomatoes.
Heat oil in a medium saucepan. Add Rashmi's Blend. Stir for a few seconds until the spices are fragrant.
Add ginger and potatoes. Stir to coat with spices.
Add 1 cup water, salt and pepper. Bring to a boil, cover and simmer for about 10 minutes.
Add turnips and tomatoes, stir, cover and simmer until both potatoes and turnips are cooked.
Turn the stove off.
Add Garam Masala, stir. Cover and let the curry rest for 5-10 minutes as it continues to cook.
Taste and adjust the seasonings. Sprinkle with cilantro and serve with rice or Naan.
Copyright © Rashmi Rustagi 2021. All Rights Reserved.
---