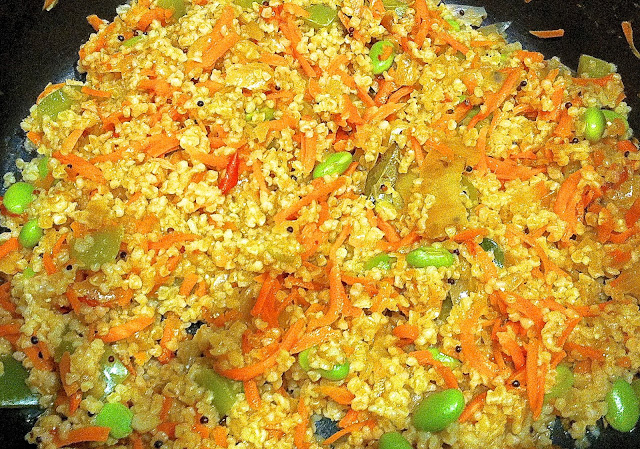 I grew up eating Dalia or cracked wheat cooked in milk with sugar for breakfast. Cracked wheat Upma is a delicious and more nutritious savory dish that can be served as breakfast, lunch, brunch or dinner. It is easy to make and a wholesome side dish as well.
For extra flavor, dry roast the cracked wheat in a skillet, stirring often on medium-low heat until the wheat turns golden and fragrant. You can also use vegetable or chicken broth instead of water and eliminate the 1/2 teaspoon salt in the soak. Serve with
Cucumber Raita
on the side for a complete meal.
ingredients:
3 1/2 cups water
1 cup cracked wheat (coarse grind, see note)
1 tsp. salt, divided
2 tsps. Canola oil
1 tsp. black mustard seeds
6-8 curry leaves
1 1/2 cups diced onions
1/2 cup edamame beans, frozen or fresh
1/2 tsp. red pepper flakes
1/4 tsp. asafoetida
1 1/2 cups grated carrots
1/2 cup diced bell pepper
1/2 cup diced tomatoes
2-3 tsps. fresh lemon juice
1 tsp. minced green chilies (optional)
1/4 cup chopped fresh coriander leaves (optional)
Cracked wheat comes in two grinds, fine and coarse. I prefer the coarse grind for its texture.

preparation:
Bring water to a boil in a medium saucepan.
Add cracked wheat, 1/2 teaspoon salt, stir.
Cover the pot and remove from heat. Let soak for 15 minutes.
In the meantime, prepare the vegetables.
Heat a skillet on medium heat, add oil and mustard seeds.
When the seeds start to sizzle and pop, add curry leaves and onions. Fry the onions for 4-6 minutes.
Add edamame beans, cook for 3-4 minutes, stirring occasionally.
Add red pepper flakes, asafoetida, carrots, bell peppers and tomatoes.
Add the remaining 1/2 tsp. salt, stir for 2-3 minutes, set aside.
Bring the soaked wheat to a boil, simmer for 5-7 minutes.
Add the cooked vegetables,stir and simmer covered for 2-3 minutes.
Let Upma rest for a few minutes, sprinkle with lemon juice (coriander and chilies) and serve!
Copyright © Rashmi Rustagi 2013. All Rights Reserved.
---