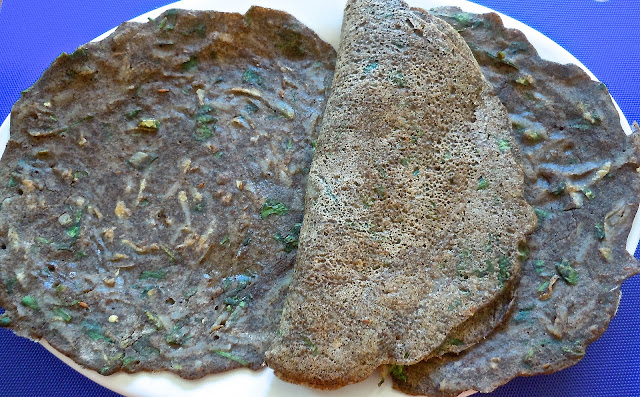 My family always kept vrat or fasting during the nine days of Navratri when I was growing up in India. As kids, we looked forward to it because the food was so different and delicious. I can recall my mom making tangy potatoes served with buckwheat puris fried in ghee. Buckwheat, called kuttu in Hindi, does not have any gluten, so it's very hard to roll or knead into puris or parathas. I prefer to make it into chilla, or a savory crepe, thus eliminating the need for rolling the dough and deep frying. Chilla (or cheela) are savory crepes that can be made with any gluten-free flours, including besan (chickpea flour), corn, moong (mung bean flour), millet, etc.
Chilla are quick and easy to make. All you have to do is mix the flour with water and seasonings, and spread the batter on a hot skillet. You can customize them by adding chopped or grated vegetables to the batter. I like to add grated potatoes to the buckwheat version, and grated carrots to the besan version.
I've included my two favorite versions below, which are made from buckwheat and besan. Both recipes yield 5-6 medium-sized chilla.

Buckwheat Chilla:




ingredients:
3/4 cup buckwheat flour
3/4 cup russet potato, peeled and grated (about 1 medium potato)
1/2 teaspoon salt
1/2 teaspoon minced green chilies
1/4 cup minced coriander leaves
1/2 teaspoon toasted cumin seeds (see note)
3/4 cup water
2-3 teaspoons ghee, butter, or oil for frying

note:
Heat a dry skillet on medium heat. Add cumin seeds and roast until light brown in color and fragrant, about a minute.



Besan Chilla: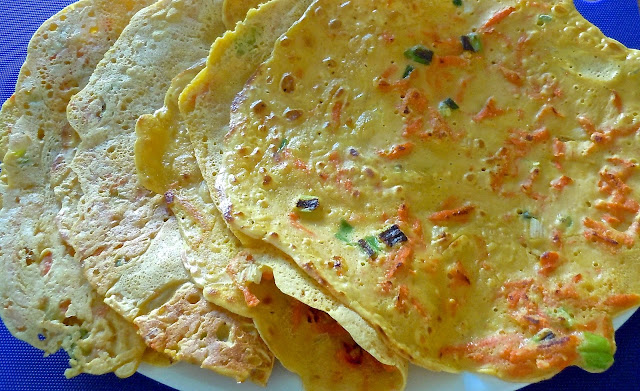 ingredients
1 cup besan
1/2 teaspoon salt
1/4 teaspoon asafoetida powder
1 teaspoon green chilies, minced
2 green onions, finely chopped
1/2 cup carrots, grated
1 cup water
2-3 tablespoons ghee, butter, or oil for frying

preparation for both:
Combine all of the ingredients except the oil into a large bowl and mix into a smooth batter. Set aside for a few minutes for the potatoes or carrots to release their liquid.
Heat a skillet over medium heat. Add a few drops of oil. Using a wide spatula or bottom of a measuring cup, spread about a half cup of batter into a 6-8 inch circle.
Cook for about 1 1/2 minutes on each side until golden, making sure to brush the top with a little bit of oil before flipping. Cook for another 1-2 minutes until the chilla is golden brown. Serve with Cucumber Raita and Sweet and Spicy Mango Chutney!
Freeze any leftovers and reheat them in a toaster-oven or skillet.
Copyright © Rashmi Rustagi 2013. All Rights Reserved.
---