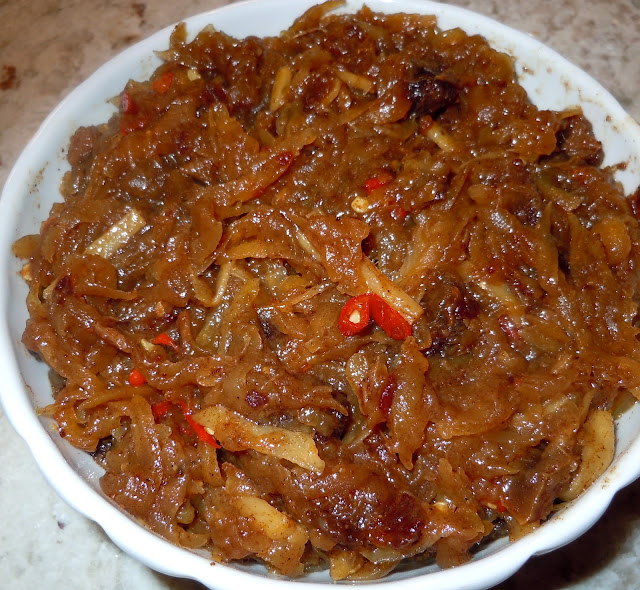 Mango is the most versatile fruit in India. Beginning with baby mango or paisley or 'carrie' to the mature, ripe fruit, there are many ways to use mango in a recipe. Raw or 'green' mango can be quite sour and is used to make achaars, chutneys, sherbets and murabbas, cut up and dried as flakes and powdered for souring foods. You need a green, sour mango for this chutney and the best way to know that is to pick a very firm, green mango in the 'raw mango' section of the Indian market. The flesh should be white when cut.
Enjoy this easy-to-make chutney with meats and snacks. I love to eat it with Brie cheese and crackers!
ingredients:
1 medium raw mango, peeled and grated (about 2 cups)
1/2 cup finely chopped dates
1 inch cube ginger, peeled and cut into thin sticks
2 tbsps. brown sugar
1 tsp. black salt (Kala Namak) (see notes)
1 1/2 tsp.
Garam Masala
1/2-1 tbsp. chopped red chilies
1/2 cup water
notes:
Use regular salt if Kala Namak is not available.
You can buy Garam Masala on my shop page.
preparation:
Place all ingredients in a microwave-safe bowl, mix well.
Cover and cook on high in the microwave for 3 minutes.
Stir, cover and cook for 6 more minutes at 50% power, stirring halfway.
Stir, taste and adjust seasonings (the heat from the peppers will be reduced after a day or two).
Transfer to a clean jar.
Serve with snacks, curries, pork chops and fish.
Store in the refrigerator.
Copyright © Rashmi Rustagi 2012. All Rights Reserved.
---