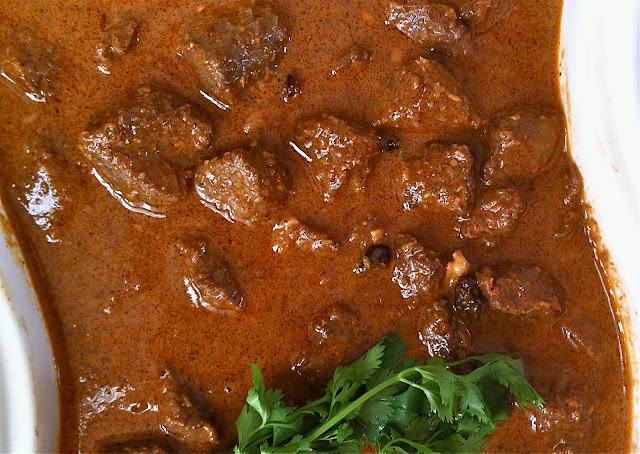 The word Shahi means royal and this dish is indeed fit for a king! The use of tomato paste and cream gives the gravy a smooth, velvety texture. I like to chop the raisins to keep their flavor subtle and use coconut to give body to the sauce. The gravy is finger-licking good! Make Shahi Lamb Curry a few hours or the day before serving for best flavor.
ingredients:
3/4 cube inch ginger
4 cloves garlic
2-3 tbsps. coconut powder
1/4 cup cashew pieces, divided
3/4 tsp. salt
1 tsp. fennel seeds
1/2 tsp. cayenne pepper
1 1/2 lbs. boneless lamb/mutton cubes
2 tbsps. butter
2 bay leaves
2 tbsps. tomato paste
2 tbsps. raisins, chopped
1 1/2 tbsps. Garam Masala
1 cup heavy cream, divided
1/2 cup chopped fresh mint (optional)
note:
You can buy Garam Masala on my shop page.
preparation:
Grind ginger, garlic, coconut and half the cashews, adding some water if needed.
Blend in salt, fennel and cayenne.
In a medium bowl, marinate lamb in ginger-garlic paste for 30 minutes to an hour.
Melt butter in a heavy pot, add bay leaves and lamb.
Brown lamb, stirring occasionally.
Add tomato paste and continue to brown.
Add raisins, remaining cashews, Garam Masala and half cup cream.
Simmer for 20-30 minutes or until tender, adding some water if needed.
Add remaining cream.
Taste and adjust seasonings.
Add chopped mint, serve. (If making ahead of time, add cream and mint after reheating).
Copyright © Rashmi Rustagi 2012. All Rights Reserved.
---