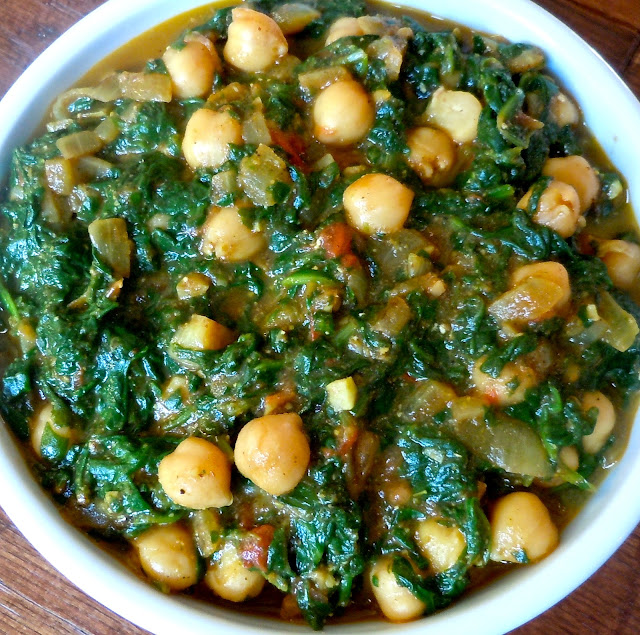 Garbanzo beans or Chhole have become really popular at Indian restaurants and homes. Palak Chhole is a great way to serve spinach which tastes creamy without much cream. The combination of spinach with beans, served with rice or roti, makes a wholesome meal.
ingredients: 
1 lb. spinach, fresh or frozen
2 Tbsps. butter or oil
1 medium onion chopped (about 1 cup)
3 cloves garlic, minced
3/4 inch cube ginger, minced
1 Tbsp. Curry Powder
1 medium tomato diced
2 bay leaves
1/2 tsp. cayenne pepper
3/4 tsp. salt
2 cups cooked garbanzo beans (see note)
1 tsp. Garam Masala
1/4-1/2 cup low fat sour cream
note:
You can use canned beans or dried beans. For instructions on how to cook dried beans, click here.
You can buy Curry Powder and Garam Masala on the shop page.
preparation:
Cook spinach until just wilted, either on the stove top or in a microwave oven.
Finely chop spinach when cool enough to touch or chop it with an immersion blender. (I find it easier to chop cooked spinach than raw spinach). Set aside.
In a medium saucepan, heat butter.
Add onions and saute until golden brown, about 5-7 minutes.
Add ginger and garlic, saute for a few seconds.
Add curry powder, stir for a few seconds.
Add tomatoes, bay leaves, cayenne pepper and salt.
When tomatoes start to simmer, add spinach and garbanzo beans.
Bring to a boil, adding 1/2 cup of water if needed; do not cover the pot.
Add Garam Masala, lower heat and simmer Palak Chhole for 5-6 minutes.
Remove pot from stove, blend in 1/4 cup sour cream.
Taste and adjust seasonings adding more sour cream if needed.
Serve over rice!
Copyright © Rashmi Rustagi 2012. All Rights Reserved.
---