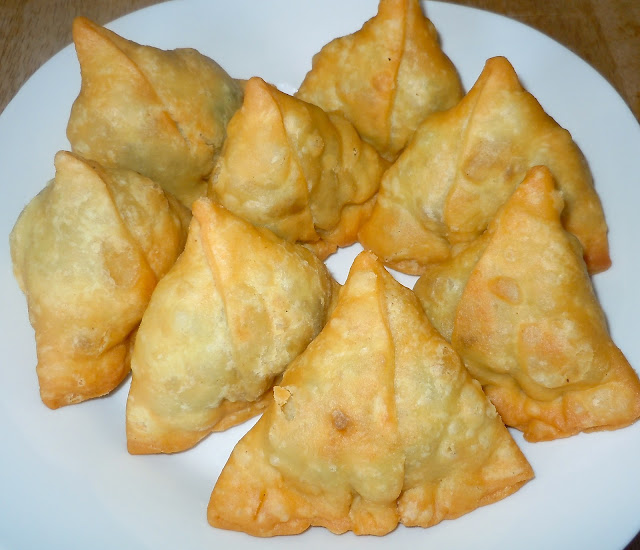 Samosas are one of the most popular Indian snacks. They are so much fun to make and even more fun to eat! The best tasting Samosas are made with rolling out a flaky pastry, stuffing it with a savory filling and frying on a low to medium heat so that the pastry becomes crispy. The most popular stuffing is potatoes with green peas. They can also be stuffed with mixed vegetables and cooked ground meat. Traditionally, potatoes are diced first and then cooked. A lot of restaurants use boiled, mashed potatoes which results in a gooey, soggy filling. Try this recipe, it is easy and delicious!
yeild:
8 samosas

ingredients:
filling:
2 medium potatoes, peeled and diced (1 1/2 cups)
3/4 tsp. salt
1/2 cup frozen peas
2 tsps. vegetable oil
1Tbsp. coriander powder
1 tsp. cumin powder
1/4 tsp. red pepper flakes
1 tsp. dried mango powder
1/2 tsp. Garam Masala
2-3 Tbsps. chopped, roasted cashews (optional)
2-3 Tbsps. raisins (optional)

dough:
3/4 cup all purpose flour
2 Tbsps. butter or shortening, softened (if using shortening, add 1/2 tsp salt)
pinch of salt
about 2 1/2 Tbsps. water
2-2 1/2 cups vegetable oil, for frying
notes:
You can buy Garam Masala on my shop page.
If Samosa is not crispy, bake for 20 minutes in a single layer in a 250 degree F oven, works well for leftovers too.
preparation:
Rinse potatoes, drain and place in a microwave-safe bowl.
Add salt, cover and cook in microwave on high for 5 minutes.
Add peas, oil, coriander, cumin, and pepper flakes.
Cover, cook on high for another 3 minutes.
Set aside covered for 5 minutes (potatoes will continue to cook).
Add mango powder, Garam Masala, (cashews and/or raisins). Mix and cool.
In the meantime, in a medium bowl, mix butter into the flour until it looks like bread crumbs.
Slowly add water, mixing gently to make a soft dough. To maintain flakiness, do not knead the dough.
Cover with a damp paper towel and let dough rest for 10-15 minutes.
Divide dough into four equal parts and shape into smooth patties.
Roll each patty into a 5 x 7 inch oval, using some oil if necessary, to keep dough from sticking.
Cut each oval across in half ending with two 5 x 3 1/2 inch semi circles.
Brush the cut edge with water.
Fold one half of cut straight side toward the middle.
Fold in the other cut edge, overlapping 1/4 inch to form a cone.
Press wet edges together to blend the seam.
Pick up cone, hold in one hand as if you were holding an ice cream cone.
Brush rounded edge with water.
Fill cone with about 2 tablespoons of potato filling.
Bring open edges together and press to close, pinching to form a triangle.
Set aside and cover with a damp paper towel.
Repeat until all Samosas are made.
Heat 2-3 cups oil on low heat in a medium frying pan (oil should be about 2 inches deep).
Gently drop Samosas in hot oil.
Fry until golden brown and crisp, 5-7 minutes (see notes)
Drain on paper towels, transfer to a wire rack to cool.
Serve with Mango Mint Chutney and Imli Sonth (Tamarind Chutney).
Copyright © Rashmi Rustagi 2012. All Rights Reserved.
---