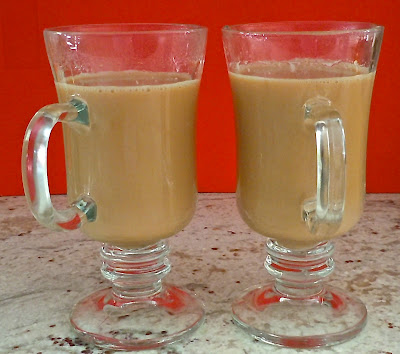 Chai or tea is not only a popular drink in India, it is a part of the culture. Chai has gained popularity in the rest of the world as well. Masala Chai is sweetened tea with spices and milk. You can buy all kinds of spice mixes for Masala Chai, however it is really easy to make with the spices of your choice. I use whole spices which do not leave a gritty residue in the cup.
For a variation, sweeten your Chai with brown sugar or molasses.
Makes 2 cups.
ingredients:
2 cups water
1/2 inch square piece ginger
2 green cardamoms
4 cloves
1 inch stick cinnamon
1 piece star jasmine (optional)
2 bags of unflavored black tea
1/2 cup milk
2 tsps. honey (optional)
preparation:
Bring water and spices to a boil in a small saucepan. Cover and simmer for 5-10 minutes.
Add tea bags, bring to a boil, add milk and bring it to a boil again, watching the pot from boiling over.
Take off the stove, cover and rest for 2-3 minutes. Serve hot, using a sweetener of your choice.
Copyright © Rashmi Rustagi 2012. All Rights Reserved.
---