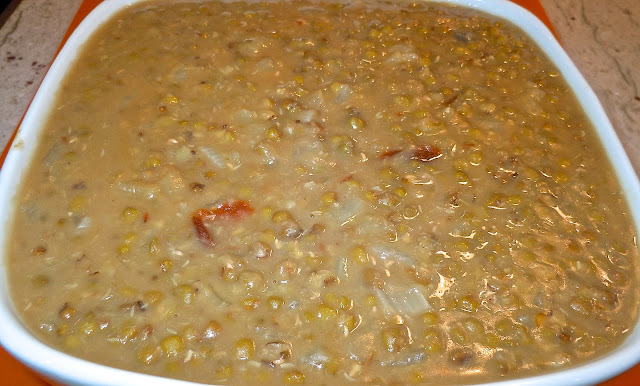 Moong beans are very popular in Indian cuisine. They are eaten as Whole Moong Daal, split Moong with or without skin and Moong flour is used in many sweet and savory dishes. Moong Daal Khichdi made with skinless daal and rice is a common dish served to babies.
Whole Moong Daal is a wholesome dish that can be served as a soup or with rice or roti as a complete meal. Garnish Moong Daal with crispy fried onions just before serving!
ingredients:
1 cup dried Moong beans
2 tbsps. butter/ghee/oil
1/2 cup chopped onions
2-3 cloves garlic
1 tsp. minced ginger
1 bay leaf
3-4 cloves
1 inch stick cinnamon
1-2 brown cardamoms, whole
1/4 tsp. red pepper flakes
1 tsp. salt
3 cups water
fried onions, canned or home fried (optional)
note: 
Unsoaked beans will require more water and take longer to cook.

preparation:
Rinse and soak Moong beans for 2 hours or more. To speed up soaking, bring beans to a boil in 2-3 cups water. Turn off heat and soak for an hour (for easier digestion, rinse beans again and proceed).
Melt butter in a medium saucepan.
Add onions, cook until onions start to brown.
Add garlic, ginger, stir for a few seconds.
Add bay leaf, cloves, cinnamon, cardamom and pepper flakes, stir for a few seconds.
Add drained beans, salt, and water, bring to a boil and simmer covered, until beans start to fall apart (about 30 minutes).
If using a pressure cooker, cook on medium heat for 4 minutes after the pressure is built. Moong Daal will continue to cook until the pressure goes down. You can also cook Moong Daal in a slow cooker for 4 hours on high setting.
Add more water to bring to desired consistency.
Taste and adjust seasonings.
Sprinkle with fried onions and serve with rice and/or roti.
Copyright © Rashmi Rustagi 2012. All Rights Reserved.
---