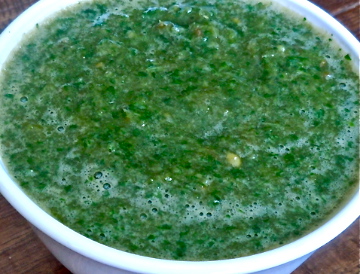 Chutney is a blend of several ingredients, served as an accompaniment to dishes to enhance their flavor.  A limitless number of chutneys can be made from almost any combination of vegetables, fruits, herbs and spices. Chutneys made from fresh ingredients such as mint, cilantro, mango etc. are seasonal, depending on the availability of the ingredients.
Most recipes for chutney require a lot of ingredients, that is not necessary because a chutney should not overpower the dish it is served with. The quantity of ingredients in a chutney is very subjective so feel free to experiment. There are no hard rules, just use this recipe as an outline. This recipe makes a large batch, you can freeze half of it and defrost as needed.
The refreshing taste of fresh coriander in this simple chutney makes a great accompaniment to a lot of dishes including grilled chicken and fish; serve it with any meal.
ingredients:
1 small bunch coriander leaves
2 medium tomatoes
1-2 medium jalapeno peppers or another green chili of your choice
2 tbsps. lemon or lime juice
3/4 squre inch fresh ginger
1 tsp. salt
1/4 cup water
preparation:
Cut off about an inch from end of coriander stems.
Rinse well, chop coarsely.
Put coriander along with rest of the ingredients in a blender or use an immersion blender to grind to a paste (I prefer not to grind it too smooth).
Taste and adjust seasonings (heat from the chilies reduces with time).
Store in a covered jar in the refrigerator or freezer.
Copyright © Rashmi Rustagi 2012. All Rights Reserved.

---