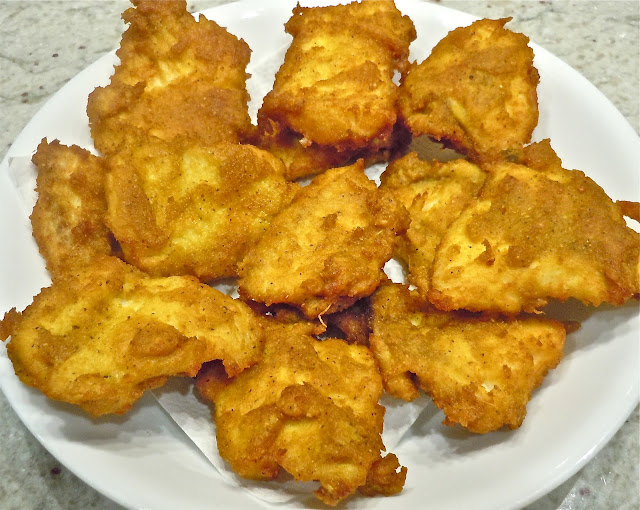 Growing up in Lucknow, I enjoyed eating the fresh water fish called 'Rohu', a fish of the Carp family. My favorite dish was my mom's fried fish! It always turned out crispy because she used rice flour in the batter. I have tried using other batters but rice flour works the best. Since Carp is not easy to find, I like using Tilapia or Catfish. Serve as a side dish with Daal and rice or rolled up in a roti with chutney and cucumber slices.
ingredients:
1 tbsp. white vinegar
1 tsp. salt, divided
1 lb. Tilapia or Catfish fillets, cut into quarters
1/4 cup cornstarch
1 tsp. garlic paste
1 tsp. ginger paste
1/3 cup rice flour (see notes)
2 tbsps. Rashmi's Blend
1 tsp. powdered mustard seeds
1/2 tsp. powdered fenugreek seeds
1/2 tsp. ground black pepper
about 1/4 cup water
2 cups vegetable oil for frying
notes:
Rice flour is available at most Indian and Asian grocery stores.
You can buy Rashmi's Blend on my Shop page.
preparation:
Mix together vinegar and 1/2 tsp. salt and rub over the fish.
Place fish in a colander over a bowl and set aside for 15-20 minutes to drain.
Place cornstarch in a shallow bowl, set aside.
In a medium bowl, mix together rice flour, ginger, garlic, remaining 1/2 tsp. salt, all the spices and water to form a thick batter.
Heat oil in a frying pan to 350 degrees.
In the meantime, place fish on paper towels and pat dry.
Roll each piece in cornstarch to dredge it lightly. Set on a cookie rack.
When the oil is ready, dip fish in the rice batter one piece at a time and drop it in the hot oil.
Fry the fish, few pieces at a time until golden brown on both sides.
Serve immediately with Cilantro Chutney!
Copyright © Rashmi Rustagi 2012. All Rights Reserved.
---