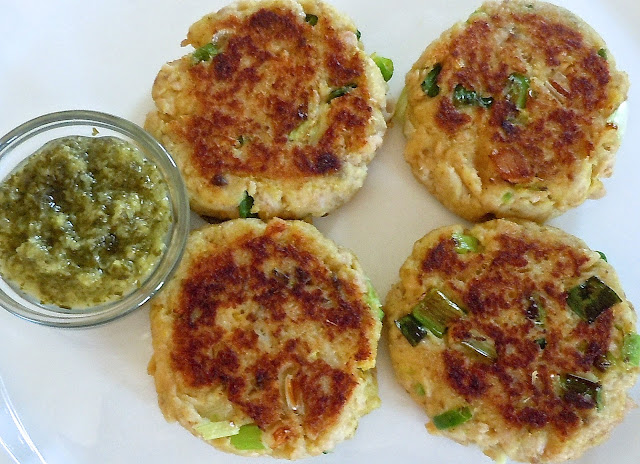 I always have a can of salmon or tuna in my pantry to put together a quick and easy and delicious snack. With 20-30 grams of protein per can, these Kababs make a highly nutritious meal as well. The curry powder in Salmon Kababs gives it a nice kick, eliminating extra calories from mayonnaise or other fats. Serve Kababs with salad and Cucumber Raita for a meal.
ingredients:
1/4 cup buttermilk (see notes)
1-2 slices bread, crusts removed (I use whole wheat)
6 oz. can of unsalted Salmon or 5 oz. can Tuna, drained
3-4 tbsps. minced green onions
1/2 tsp. Curry Powder (see notes)
1/4 tsp. black pepper
1/4 tsp. salt
1/4 tsp. minced green chilies (optional)
1 tsp. vegetable oil for pan frying
notes:
You can substitute buttermilk with 2-3 tablespoons of yogurt thinned with 1-2 tablespoons milk or water.
You can buy Curry Powder on the shop page.
preparation: 
Soak bread in buttermilk in a bowl.
Add rest of the ingredients, crumbling salmon and kneading it in.
Divide into 4 portions, shaping each into 2 inch diameter patties.
Heat a non-stick skillet on medium-low heat, sprinkle with half teaspoon oil.
Fry Kababs until golden, 2-3 minutes.
Flip Kababs over and fry until golden brown, using rest of the oil.
Serve with Mango Mint Chutney.
Copyright © Rashmi Rustagi 2012. All Rights Reserved.
---