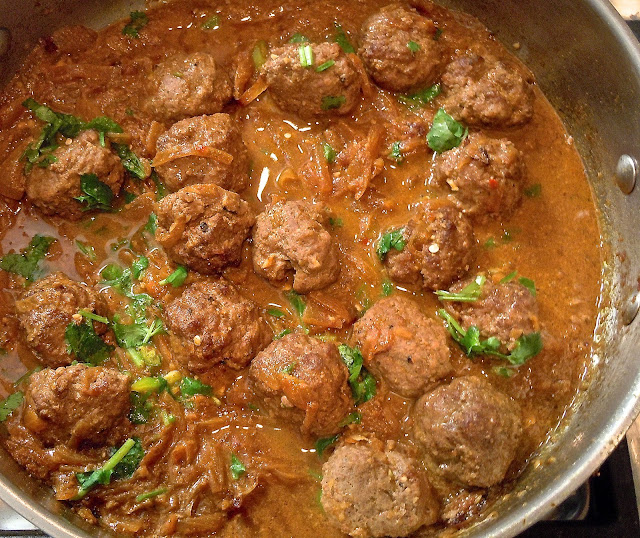 Kofta refers to anything shaped like a ball, made either of meat or vegetables and fried, baked or broiled. It can be served dry or in a gravy. Meat koftas are traditionally fried in a skillet but I prefer to bake mine in the oven, it is so much easier. You can serve Kofta with rice, Naan and Raita.
ingredients:
for kofta:
1 lb. lean ground beef or lamb
1/4 cup yogurt
2 cloves garlic minced
1 egg yolk
3/4 tsp. salt
2 tsps. Garam Masala
1/2 tsp. black pepper (optional)
for gravy:
3 tbsps. vegetable oil
2 cups thinly sliced onions
1/4 tsp. salt
1 tbsp. Rashmi's Blend
1/4 tsp. red pepper flakes
1/2 tsp. minced ginger
1/2 tsp. minced garlic
2 tbsps. yogurt
1 tsp. Garam Masala
1 cup chicken broth or water
1/2 tsp. minced green chilies (optional)
1/2 cup chopped fresh coriander
note:
You can buy Garam Masala and Rashmi's Blend on the shop page.
preparation:
Gently mix all Kofta ingredients in a bowl, divide into 20 portions and shape into balls, using very little pressure. It is okay if meatballs are not perfectly smooth and round.
Place them on an oven tray lined with foil and set aside.
Adjust oven rack so it is 6 inches away from the broiler. Preheat oven to 500 degrees F.
In the meantime, heat oil in a frying pan on medium heat. Add onions, fry until they start to brown (about 10 minutes), stirring occasionally.
Add Rashmi's Blend and pepper flakes; fry for about a minute until spices turn fragrant and start to brown.
Add ginger and garlic, stir for a few seconds, add yogurt and continue to cook until yogurt starts to caramelize.
Add Garam Masala and one cup of broth or water. Stir and turn the stove off.
Switch oven to broil and place meatball tray under the broiler for 5-6 minutes until Koftas are browned on top.
Take the tray out of the oven and transfer Koftas to the gravy pan, gently mix with gravy.
Turn the stove on. When gravy starts to boil, cover pan, turn stove off and let Koftas rest for 5-10 minutes (add minced green chilies now).
Taste and adjust seasonings, adding more Garam Masala if needed.
Fold in coriander leaves and serve with fresh Naan!
Copyright © Rashmi Rustagi 2012. All Rights Reserved.
---