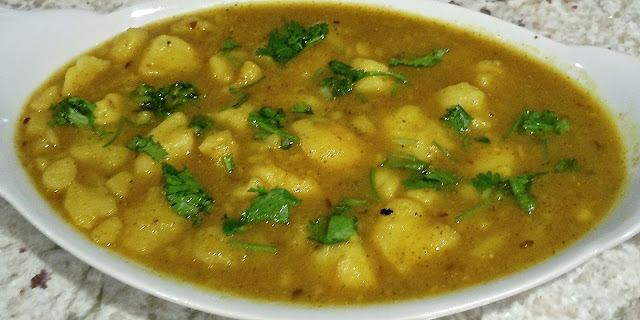 Potatoes are a favorite in every cuisine. There are at least a hundred different Indian recipes for preparing potatoes, from simply roasted potatoes to stuffed potato curry.
Jeera Aloo is a classic North Indian dish that goes well with
Puris
and Kachoris. It is a delicious, tangy dish, easy to prepare, without any onion or garlic!
ingredients:
4 medium potatoes, boiled, peeled and broken into 1/2 inch pieces (about 2 cups)
1 tbsp. oil
1/2 tsp. cumin seeds
1 tbsp. Rashmi's Blend
1/2 tsp. red pepper flakes
1/4 tsp. asafoetida
3/4 tsp. salt
2 tsps. dried mango powder
1/4 cup fresh coriander leaves (optional)
1/2 tsp. minced green chilies (optional)
note:
You can buy Rashmi's Blend on my shop page.
preparation:
Mash a quarter cup of the potatoes, set aside.
Heat oil in a medium saucepan over medium heat.
Add cumin seeds. When the seeds start to crackle add Rashmi's Blend. Stir for a few seconds until the spices turn fragrant.
Add pepper flakes, asafoetida, all the potatoes, salt and mango powder. Stir to mix all the ingredients.
Add 1 1/2 cups of water and bring to a boil. Cover and simmer for 5-10 minutes.
Taste and adjust seasonings (add chilies).
Copyright © Rashmi Rustagi 2012. All Rights Reserved.
---