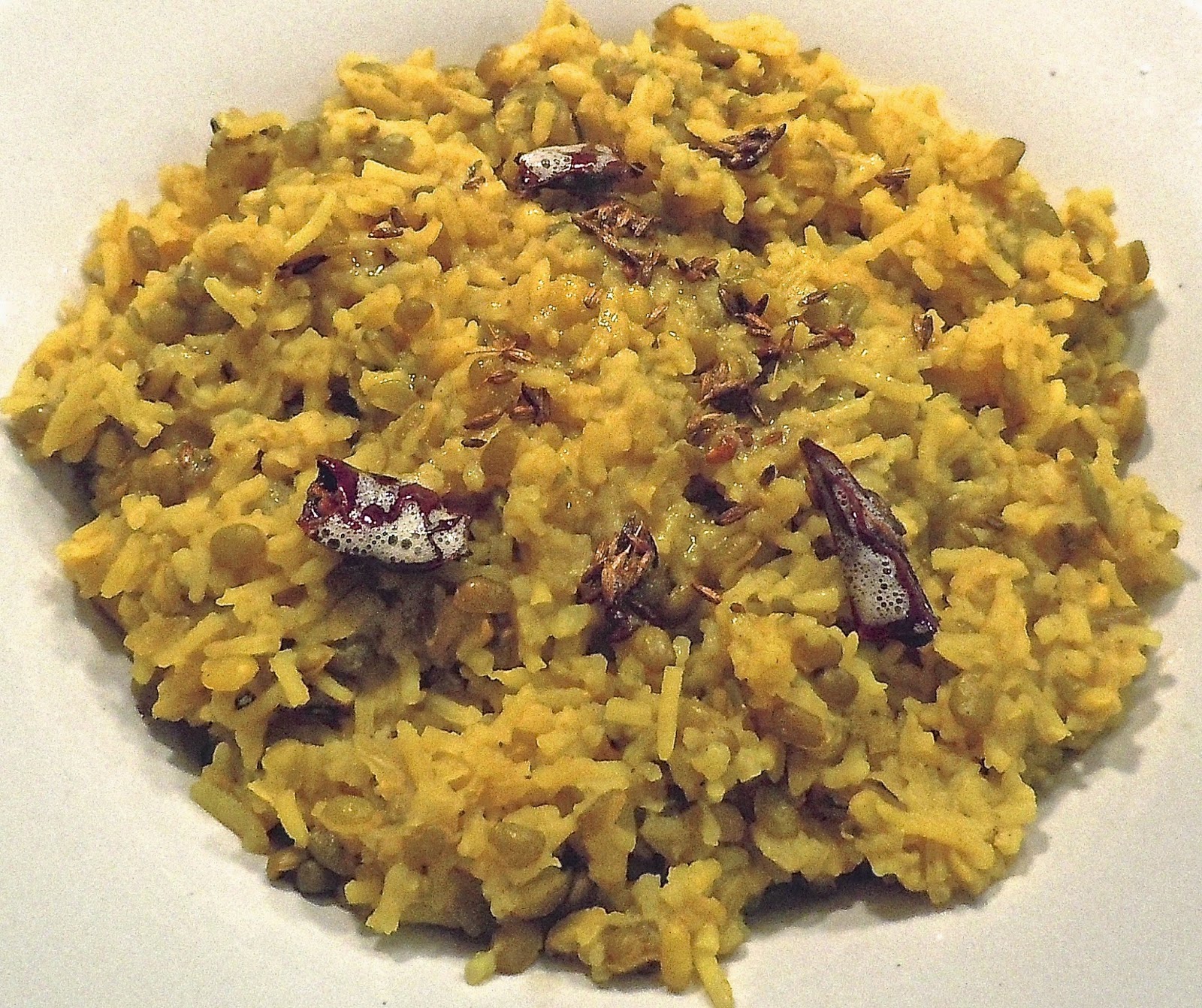 Khichri is one of the most popular Indian comfort food. Made by cooking a combination of daal and rice, Khichri is one of the first foods fed to a baby. Since it is easy to digest, Khichri is popular with the elderly as well. Any combination of any daal with sticky or medium grain rice will make a good Khichri but Moong daal with medium grain sticky rice is the most popular. Basmati rice is not recommended since it is not starchy enough for a creamy consistency.
My mother's favorite Khichri was Urad daal with skin cooked with long grain rice. It was more of a pilaf like consistency, not mushy. She would make that for lunch in the winter time, serving with home made Ghee and fresh cilantro-tomato chutney! Yum!!
The daal to rice ratio is totally a personal choice, I prefer equal quantities of rice and daal to keep the protein level high.
Simple to make, I find it easy to cook Khichri in a pressure cooker. If not using a pressure cooker, soak rice and daal for an hour or more to speed up the cooking, specially since daal takes longer to cook. You can also cook it in a slow cooker, about 4 hours on high. The consistency should be risotto or oatmeal like and Khichri should be served immediately for best taste.
In North India, Khichri is always served on fourteenth of January for the festival of Sankranti.
ingredients:
3/4 cup medium grain or Jasmine rice
3/4 cup Moong daal with skin
3/4 tsp. salt
3/4 tsp. turmeric
1/2 tsp. powdered cardamom seeds
1/4 tsp. powdered cloves
1/4 tsp. asafoetida powder (optional)
1 tsp. butter, Ghee or oil
5-6 cups water
for tadka: (optional)
2 tsps. Ghee or oil
1 tsp. cumin seeds
3-4 dried cherry peppers
Fry cumin seeds and peppers in Ghee or oil in a small skillet over medium heat until seeds start to crackle. Sprinkle over Khichri just before serving.
note:
You can season Khichri with cumin tadka or a few drops of Ghee.
Other popular Khichri combinations are: Toor daal with parboiled rice,  Lentil with sticky rice and Urad daal (with skin) and long grain or Basmati rice served with fried garlic tadka.
preparation:
Wash and rinse daal and rice.
Place in a 4-5 quart pot or pressure cooker.
Add salt, turmeric, cardamom, cloves, asafoetida, butter and water (4 1/2-5 cups if using a pressure cooker/slow cooker and 5-6 cups if cooking on the stove top).
Bring to a boil, reduce heat, cover and simmer for 25-30 minutes until cooked and creamy, adding more water if needed.
If cooking in a pressure cooker, turn off the heat after 5 minutes of consistent pressure.
Serve with a dollop of Ghee, Papad and Cucumber Raita!
Copyright © Rashmi Rustagi 2015. All Rights Reserved.
---