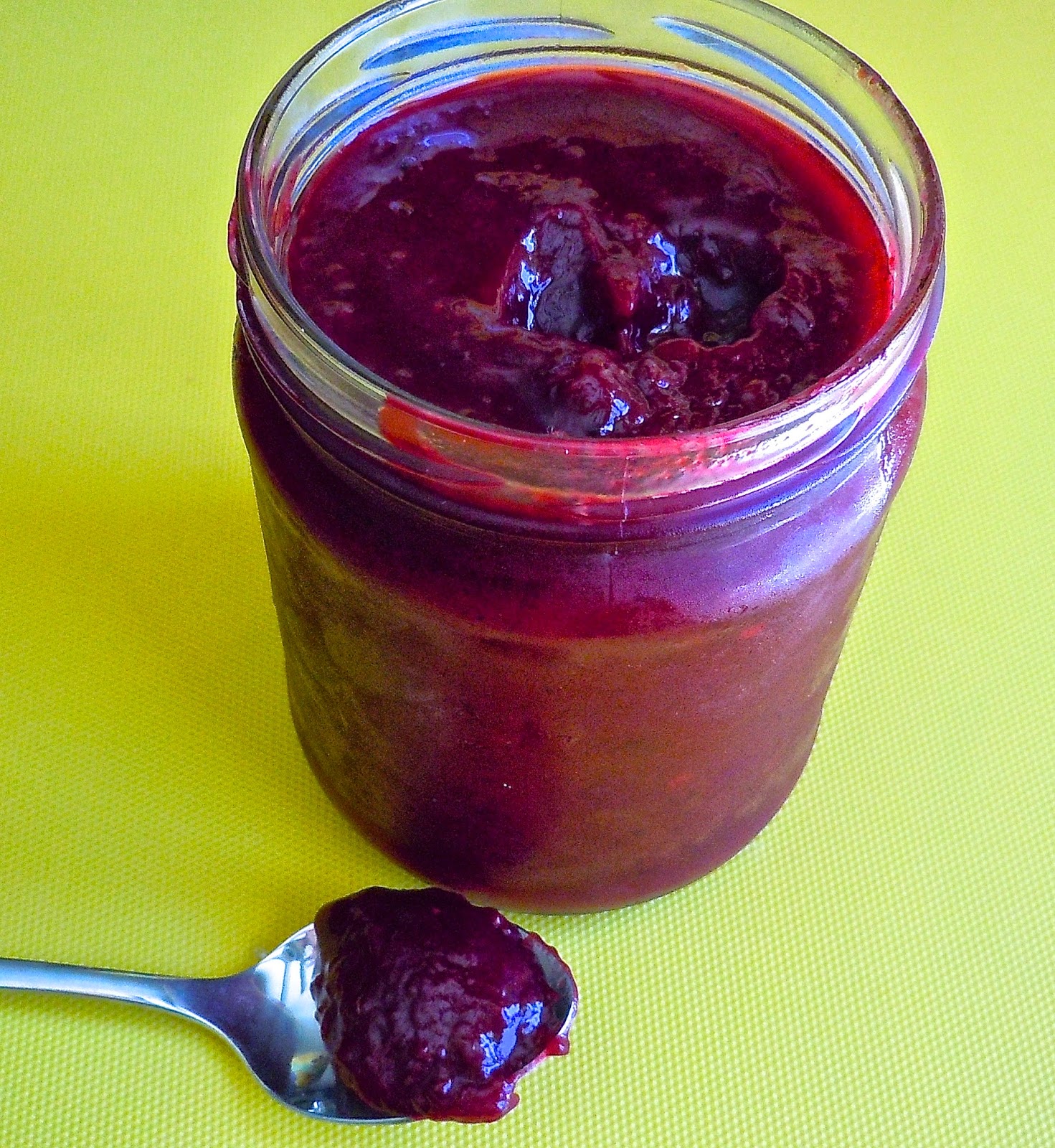 I love making spicy, sweet-tart chutneys with all the fruits available during the summer. With the huge bounty of plums in our backyard, I have made plenty to eat and share this season. My Plum Chutney is very easy to make and full of great nutrition and fibre. Raisins in the recipe help reduce the sugar quantity and add body and texture to the chutney. The spices make it more versatile, Plum Chutney tastes great with soft mild cheeses such as brie, pork and lamb chops, kababs, turkey and other cold cuts as well as on toast. This recipe works well with other stone fruits such as peaches and apricots, you will have to adjust the amount of sugar based on the fruit's sweetness.
yeild:
about 2 cups

ingredients:
20 ripe plums (about 1 1/2 lbs)
1/4 cup water
1/2 cup raisins
2-3 small chilies (about 1 tbsp. minced)
1/2 cup packed dark brown sugar
1 1/2 tsps. Garam Masala
1 1/2 tsps. ginger powder
1 tsp. salt
preparation:
Rinse plums and place them in a single layer in a saucepan (make sure you count them).
Add 1/4 cup water, cover and bring to a boil on medium heat.
Let the plums cook for 12-15 minutes, stirring occasionally; the flesh should easily fall off the pits.
Uncover and cool.
Pick out all of the pits, squeezing away the pulp (make sure the number of pits are the same as the number of plums).
Grind the raisins and chilies in a food processor, add the plum pulp, grinding everything into a puree. (I use an immersion blender and grind it all in the pot).
Place the plum mixture into the pot again, add sugar, Garam Masala, ginger powder and salt.
Bring to a boil over medium heat and simmer for five minutes, stirring occasionally. Chutney will be of ketchup consistency.
Pour hot chutney into a clean glass jar, cool to room temperature and then in the refrigerator before covering (otherwise there will be some water under the lid due to condensation)
Enjoy!
Store in the refrigerator and always use a clean, dry spoon to serve.
Copyright © Rashmi Rustagi 2014. All Rights Reserved.
---