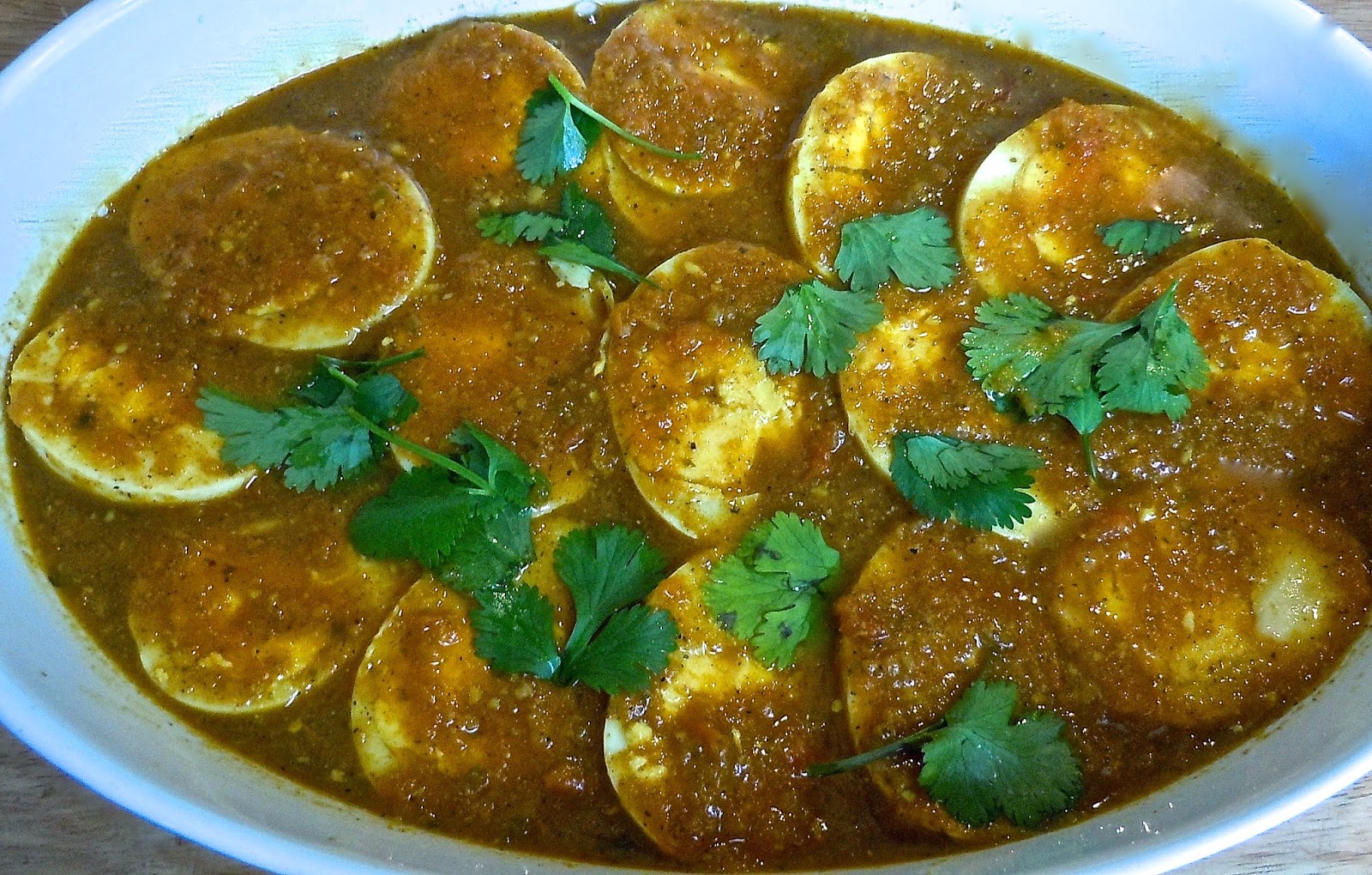 Surprise guests, drop-in friends or hungry kids and nothing in the fridge? You can always put together Egg Curry, a great dish to fall back on. Egg Curry was quite popular when I was growing up. My mother made many versions, sometimes with sliced eggs or with whole eggs and with fresh-shelled peas added to the gravy in the winter time. I like to cut the eggs in half and not stir them much once in the curry so the yolk is intact.
Prepare the curry while eggs are boiling, pour over the cooked eggs and Egg Curry is ready!
Serve with Naan or Basmati rice or toasted bread and a green salad. Egg curry tastes great the next day so make extra for left-overs.
ingredients:
8 eggs (see note)
1 tsp. baking soda
1 tsp. oil
1 cup chopped onions
3-4 cloves garlic
1/2 inch cube ginger
3 tbsps. oil or butter or ghee
1 tbsp. Rashmi's Blend
1 tsp. Curry Powder
1 tsp. salt
1 tsp. Garam Masala
1/2 cup tomato puree
1/4 tsp. black pepper
1/2 tsp. fennel seeds, crushed
1/4 cup chopped fresh coriander (optional)
note:
Fresh eggs are harder to peel. I use older eggs (that have been in the fridge for 4-5 days) for boiling.
After cooling, crack the eggs and gently squeeze them to loosen the skin. Peeling under running water also helps. The eggs can be boiled a day or 2 ahead.
preparation:
Place eggs in a single layer in a saucepan, cover with at least an inch of cold water.
Add baking soda to the water and gently bring to a boil. (You can add one tablespoon of vinegar to the water to keep the egg whites from running out of any cracked eggs).
Stir the eggs occasionally (to keep the yolk centered) until the water comes to a rolling boil.
Once the water has boiled for a minute, remove pan from the heat, cover and let sit for 10-12 minutes, stirring a couple of times.
Drain and add ice-cold water to cool the eggs.
When completely cooled, drain and peel the eggs and wipe off any water with a paper towel.
Heat one teaspoon oil in a non-stick skillet. Add the eggs and fry them, turning occasionally until golden brown on all sides.
When eggs are cool enough to handle, slice them in half lengthwise and arrange in an oven proof casserole.
In the meantime, grind onion, ginger and garlic into a smooth paste, adding 1-2 tablespoons of water if necessary.
Heat oil in a medium saucepan, add Rashmi's Blend, stir for a few seconds until the spices turn fragrant.
Add Curry Powder, stir.
Add onion-garlic paste, cook until golden brown, stirring often (onion paste will separate from the oil).
Add salt, Garam Masala, black pepper, fennel and tomato puree. Stir.
Add one cup of water, bring to a boil, cover and simmer for 4-5 minutes.
Pour over eggs, cover and heat in a 250 degree oven for 20 minutes or for 4-5 minutes at 50% power in the microwave.
Sprinkle with coriander just before serving.
Copyright © Rashmi Rustagi 2014. All Rights Reserved.
---