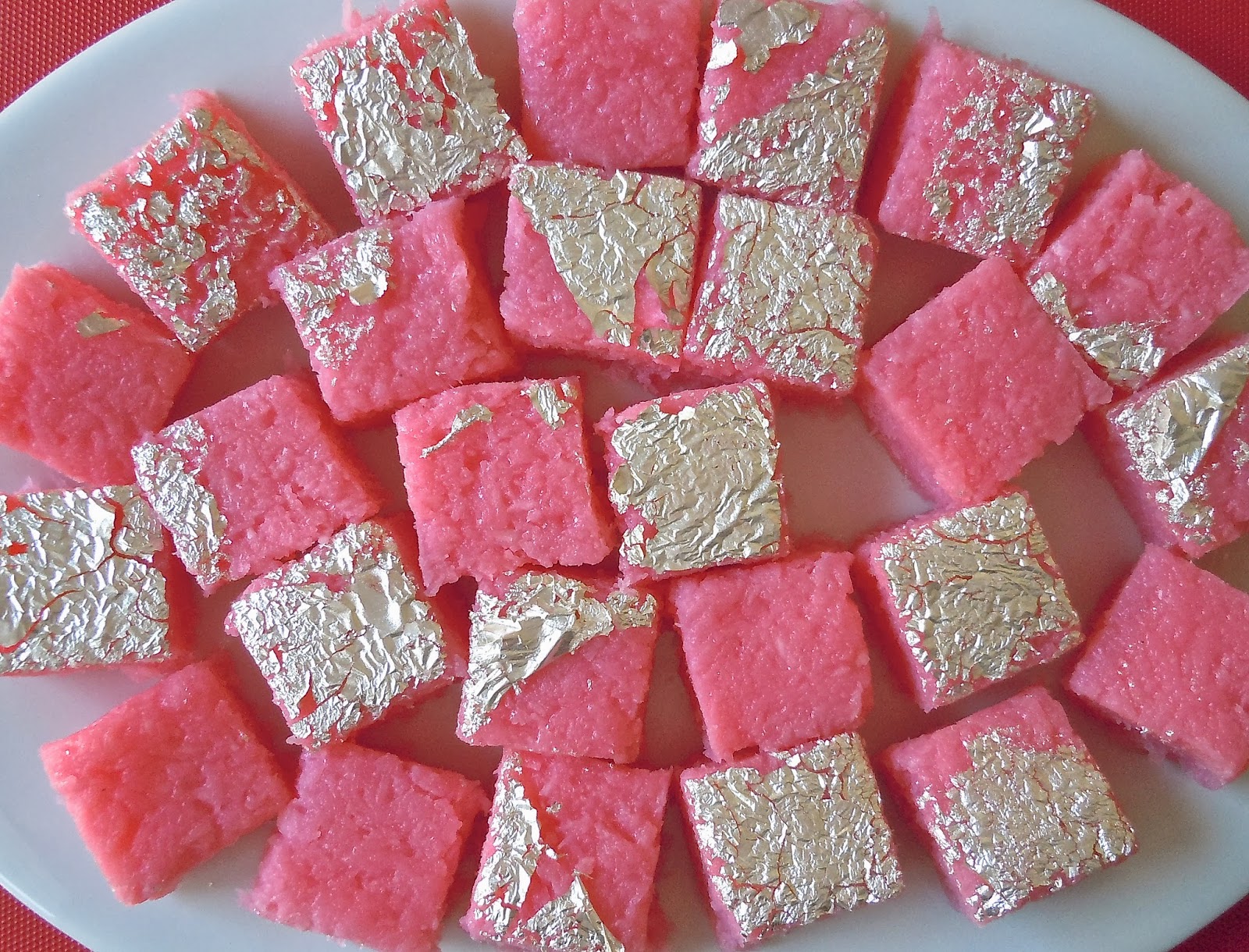 I have always been very fond of Coconut Burfi, specially the ones made with fresh coconut; I made sure that my mom served it at my wedding buffet!
Making Coconut Burfi became fun once I discovered fresh, shredded coconut in the frozen section of Indian and Chinese markets. I add just enough ricotta cheese to bind the coconut and some Kewra to flavor it. Adding a few drops of yellow or pink color gives Coconut Burfi a festive look and makes it stand apart from the other Burfis.
With just a few ingredients, you can quickly make this delicious dessert!
ingredients:
12 ozs. frozen shredded coconut, thawed
1 1/2 cups ricotta cheese
1 1/2 cups sugar
few drops of yellow or red food color (optional)
6-7 drops of Kewra essence
note:
Decorate with Vark and serve in petite paper cups for more elegance.
preparation:
Add coconut to a medium saucepan, preferably non-stick.
Heat pan on medium heat; add ricotta, sugar.
Cook, stirring often until the mixture is thick and leaves the sides of the pan, 15-20 minutes.
Add food color and Kewra.
Mix well and pour into a buttered cookie sheet, patting down into a 1/2 inch thick, 7 inch square.
Cool, cover and cool in the refrigerator before cutting into 25 squares.
Coconut Burfi freezes well so make a double batch and freeze some for next time.
Copyright © Rashmi Rustagi 2014. All Rights Reserved.
---